La minute de la texturgie n° 20 - septembre 2018
(créer de nouvelles matières sensibles en combinant textures textiles et technologie)
The gossip of "texturgie": creating new sensitive matters by combining textile textures and technology
A fabric/light sculpture with something physical, visual and emotional
In the rotunda of the new Mississippi Civil Rights Museum the fabric/light sculpture This Little Light of Mine, a metaphor for the civil rights movement, is unlike any other, anywhere. Its message: Lights came into Mississippi. … From all over the United States, people came in, and they were lights.
The sculpture is in ambient mode most of the time, with gently moving lights and audio, with a show mode every half hour. Each blade has up to eight channels of lights, and each channel has at least 40 LED lights, scribbling a quick calculation of probably 10,000 lights, and those are individually controlled, almost like pixels.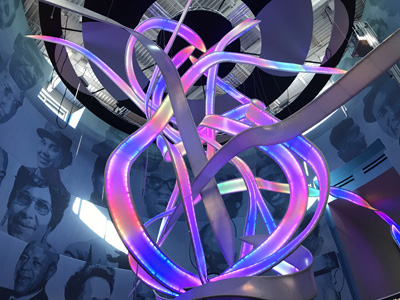 This Little Light of Mine fabric sculpture, photo by Sherry Lucas
A polymer material that can change its structure in response to light
Researchers at Massachusetts Institute of Technology (MIT) have designed a polymer material that can change its structure in response to light, converting from a rigid substance to a softer one that can heal itself when damaged. The material consists of polymers attached to a light-sensitive molecule that can be used to alter the bonds formed within the material.
This approach overcomes the trade-off that usually occurs with self-healing materials, which is that they tend to be relatively structurally weak. In this case, the material can switch between the softer, self-healing state and a more rigid state.
A polymer that can reversibly switch; Image: Demin Liu/Molgraphics
Indian castor bean sustainability program a success to bio-based polymers
Arkema and BASF, along with castor oil firm Jayant Agro-Organics and the civil society organization Solidaridad, have wrapped up an initiative to put a sustainable castor oil supply chain in place in Gujarat, India. Leading chemical companies have empowered 1,019 Indian farmers.
The nylon 11 precursor 11-aminoundecanoic acid is derived from castor oil. Arkema is a leading supplier of bio-based high performance polymers derived from castor oil. Their flagship Rilsan® polyamide 11 resins and their Pebax® Rnew® elastomers are specified across the world in numerous applications.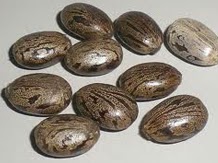 Castor bean seeds; photo Jayant Agro Organics
La minute de la texturgie n° 19 - juin 2018
This amazing fabric can change its color on demand
CREOL, the College of Optics and Photonics at the University of Central Florida (UCF), has produced the first-ever, active user-controlled colour-changing fabric which allows the user/wearer to change the colour or pattern of the fabric through smartphone. Each thread woven into the fabric incorporates within it a thin metal micro-wire. An electric current flows through the micro-wires, thus slightly raising the thread's temperature. Special pigments embedded in the thread then respond to this modification of temperature by changing its colour.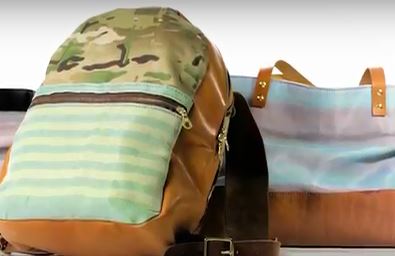 ChroMorphous prototype, CREOL, University of Central Florida
Unique molecular tags from fibre to fabric to build trust and credibility
Unique molecular SigNature tags are the core technology ingredient of the Applied DNA Sciences' family of security and authentication solutions. CertainT platform can be used to help assure authenticity, origin, traceability, as well as the quality of products. The system is also being used with man-made fibres to tag in large scale. It brings forensic traceability from fibre to fabric to supply chains through tagging, testing and tracking the product itself.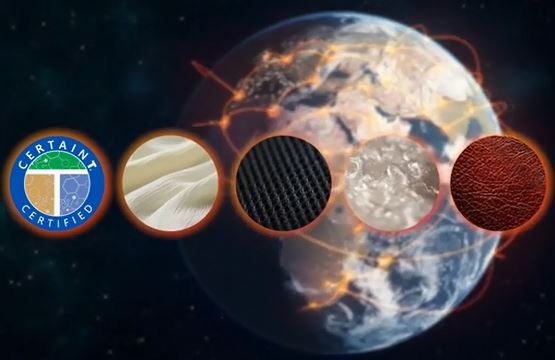 CertainT platform of Tag, courtesy of Applied DNA Sciences
Transformation of the textile industry to make it value-added and high-tech
Advanced Functional Fabrics of America (AFFOA) is partnering with MIT-Venture Mentoring Service to launch the Advanced Fabric Entrepreneurship Program. AFFOA's mission is to catalyze a domestic manufacturing-based revolution, converting traditional fibers, yarns and textiles into sophisticated, integrated and networked devices and systems, facilitating the transformation of the textile industry to make it value-added and high-tech.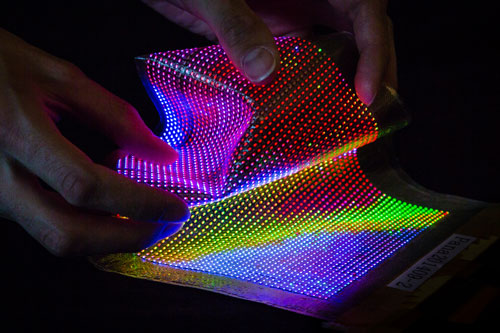 Turning clothing into information displays, developed by Holst Centre, imec and CSMT
La minute de la texturgie n° 18 - mai 2018
A fibre sculpture for the cycles of time
Madrid's historic Plaza Mayor celebrated its 400th anniversary in February 2018. In honor of the occasion, the city of Madrid, Spain, commissioned an original sculpture by American artist Janet Echelman who created an installation—1.78 Madrid—that explored the cycles of time. It was the newest edition to her "Earth Time Series," which she began in 2010 and has exhibited in different iterations in cities across the globe.
The installation was composed of layers of a highly engineered fiber 15 times stronger than steel by weight. Echelman used 77 miles of colorful extruded fiber, braided it and shaped it with 600,000 knots. The result was a vibrant, voluminous form that changed shape with wind and weather.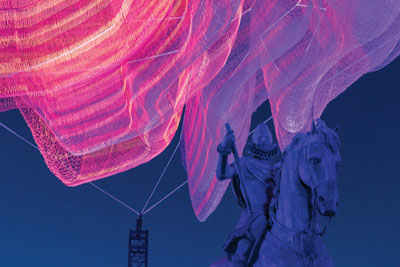 A hopeful trajectory of humanity, photo: Joao Ferrand, Studio Echelman.
New smart ink produces 3D objects able to change shape and color
Researchers at Dartmouth College have developed a smart ink that turns 3D-printed structures into objects that can change shape and color. This technique gives life to 3D-printed objects and promises to add even more functionality to 3D printing. It could pave the way for a new generation of printed material.
The new process allows designers to retain specific molecular alignments and functions in a material. Researchers expect the process to result in a new class of macroscale 3D printed objects that can be used to deliver medicine or produce high resolution bone replacements.

3D-printed object composed of hydrogel (G1) changing size after printing, photo: Chenfeng Ke
First recombinant spider silk cocoons from hybrid transgenic silkworms
Kraig Biocraft Laboratories, a leading developer of spider silk-based fibres, has successfully produced the first recombinant spider silk cocoons from the new line of hybrid transgenic silkworms recently created at its Michigan production and research facility. The first-generation cocoons from this hybrid cross have exceeded the company's expectations with some cocoons nearly twice as large as the original spider silk line cocoons.
The company will deliver ballistic shoot packs constructed from its proprietary Dragon Silk material for performance testing.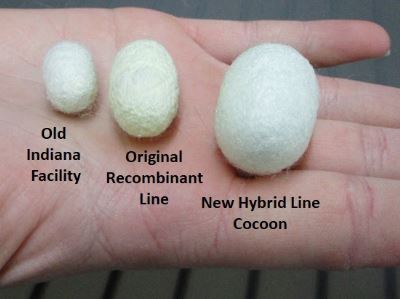 Kraig Biocraft Laboratories, Inc. Recombinant Spider Silk Technology
La minute de la texturgie n° 17 - avril 2018
Space, sound and mood: what fabric offers most is its versatility
The use of fabric to create an atmosphere in a space is a wise choice. It can be changed without much fuss and without moving existing structures. Fabric can be tight and hard-edged, or loose and soft. It can span large areas seamlessly, or be used as small accent elements. It can be static and permanent, or billowy and ephemeral. It can have texture and depth, or be smooth and monolithic. It can carry inks and dyes, or be used as a reflective or projection surface. New technological developments have enabled the design of fine sheer materials that allow light and visual transparency while boasting serious acoustical properties, inviting interior designers to rethink the concept of a private space.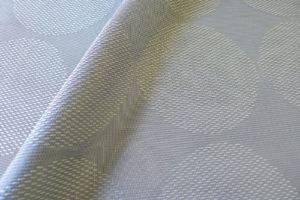 Sheer mesh fabrics designed for translucency and controlled sound, photo: Designtex
Scientists create electrically conductive nonwovens suitable for clothing
Prof. Dr. Andreas Greiner's team of researchers at the University of Bayreuth and their Chinese partners have succeeded in producing electrically conductive nonwovens suitable for clothing. The materials are flexible, and thus adapt to movements and changes in posture. In addition, they are air-permeable, meaning they do not interfere with the natural breathing of the skin.
In contrast to common methods of production, metal wires were not inserted into finished textiles. Rather, the scientists modified classical electro-spinning, which has been used to produce nonwovens for many years: short electro-spun polymer fibres and small amounts of tiny silver wires with a diameter of only 80 nanometres are mixed in a liquid. Afterwards, they are filtered, dried, and briefly heated up. If the composition is right, the resulting nonwoven material exhibits a very high degree of electrical conductivity.
Thin fibres from which nonwoven materials are formed, source: Christian Wißler
Polymers can guide 3D printing of nanoscale metal structures
For the first time, it is now possible to create complex nanoscale metal structures using 3D printing, thanks to a new technique developed by scientists at the California Institute of Technology (Caltech). The process, once scaled up, could be used for a wide variety of applications, from building tiny medical implants to creating 3D logic circuits on computer chips to engineering ultralightweight aircraft components. It also opens the door to the creation of a new class of materials with unusual properties based on their internal structure.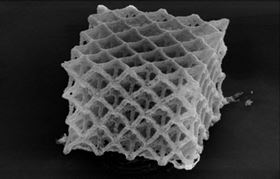 A lattice of 3D printed nickel; Image: Greer Lab
La minute de la texturgie n° 16 - février 2018
A New Frontier: The Interconnection of Energy Storage
Energy storage promises is vitally important in accelerating integration of all types of distributed energy resources, or DERs. Scientists are bridging gaps in current technologies, inventing new ways to improve energy storage performance, designing new materials and storage architectures. The use of software and cognitive learning is necessary to assess and optimise the use of battery storage to really utilize the energy consumption on the site to maximise revenue streams. Composites will score highly in both stationary and mobile storage systems due to their durability, chemical resistance and lightweight potential.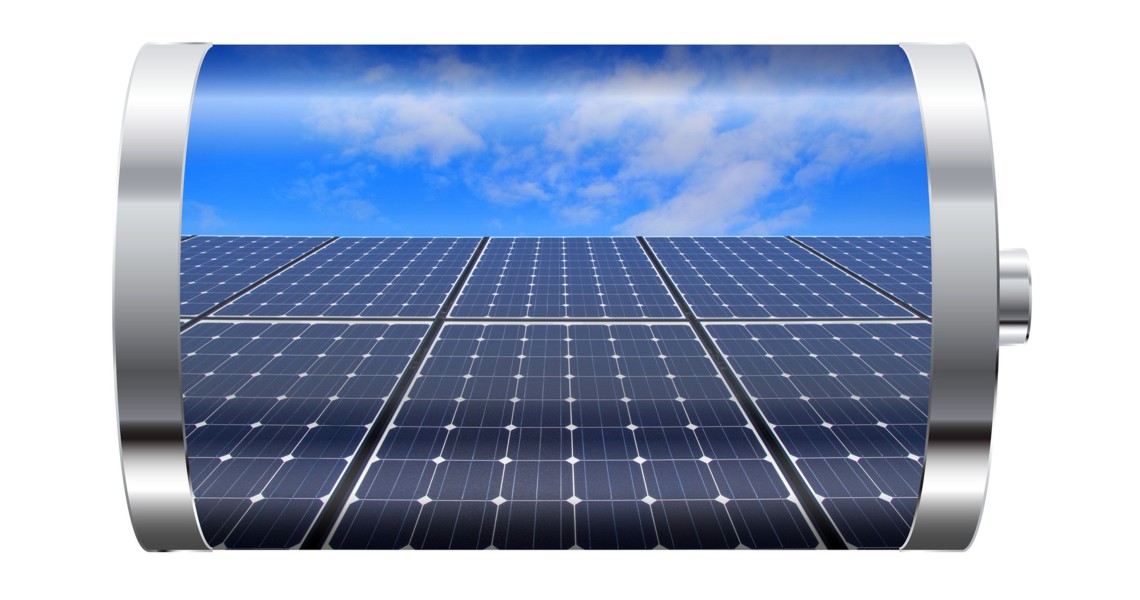 Energy storage; courtesy of Texas Sierra Club
The quest to produce a bio-based nylon 6,6 polymer has now come to fruition
Caprolactam is traditionally synthetized from oil-derived cyclohexanone. The vast majority is used to make nylon-based products including carpets and apparel. Genomatica and Italy-based polyamide producer Aquafil announced their collaboration in the development of sugar-based caprolactam, a key raw material in the production of polyamide 6.
The performance of the nylon end products will be fully comparable to those made from crude oil-derived caprolactam and will not require any machine or process adjustments by the nylon supply chain. The companies claim will play a key role in slashing environmental impacts from the nylon supply chain.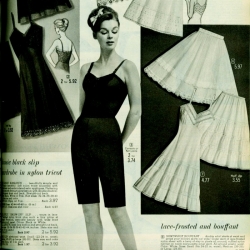 Undergarments made with nylon fibers 1963; courtesy of genlbee/Flickr
Fabrics that store information without electronics
Allen School researchers invent smart fabric that stores data without electronics. To produce their smart textiles, the researchers used a conventional sewing machine to embroider the conductive thread onto fabric. They then manipulated the fabric, using a magnet to align the poles in a positive or negative direction to correspond with ones and zeros. The data encoded in the fabric can be read by a magnetometer — an inexpensive device that is built into most smartphones.
The researchers enabled gesture recognition by sewing the magnetized thread into the fingers of a glove. The phone was able to detect six commonly used interactive gestures with 90 percent accuracy.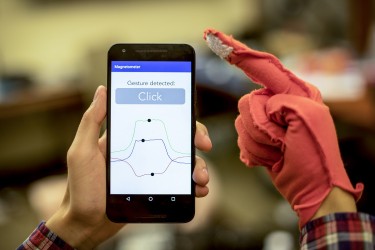 Magnetized thread into the fingers of a glove; Dennis Wise/University of Washington
La minute de la texturgie n° 15 - janvier 2018
Today knitting plays a larger role to create living spaces
Today, knitting plays a larger and larger role because it allows a higher level of detail and more flexibility in the end product. The textile can be knitted directly into the desired shape, while considering necessary functionality in the pattern at the same time, without requiring additional work.
The Museum of Modern Art of New York (MoMA) started the Young Architects Program in cooperation with MoMA PS1. This year's winner of the competition is Jenny Sabin with her Lumen project. The designer describes her work as "knitted light" because it consists almost entirely of textiles that illuminate under certain conditions.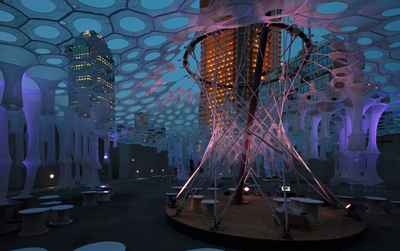 Project Lumen, 2017 award MoMA PS1; courtesy of Jenny Sabin Studio
3D garments: how to to ensure consistency between virtual prototypes and physical end products?
Despite recent advances in 3D software innovation, many end-users still argue that the industry is nowhere near ready to replace physical samples with virtual ones.
Due to the complex behaviour of materials, it is important to improve input parameters, such as bend, shear, stretch, weight, friction and thickness, and measure what happens when the materials touch the body to mimic actual fabric and garment behaviour. Standardisation of different testing methods and interoperability between 3D simulation software were suggested as potential solutions.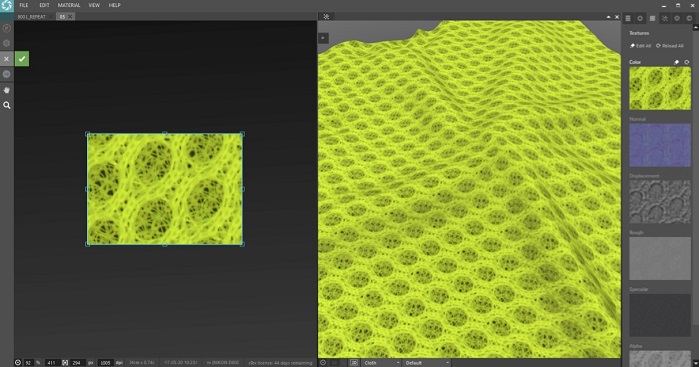 Scanned material ready for use © Vizoo GmbH
Lightweight carbon fibre construction enables truly inspirational structures
The roof of the Steve Jobs Theatre is the largest self-supporting CFRP roof ever built. The entrance to the Steve Jobs theatre is through a spectacular glass walled pavilion topped by a thin carbon fibre roof, which is 155 feet in diameter, which appears to float effortlessly above the ground as it is supported only by the curved glass walls of the pavilion. The carbon fibre structure had to be exceptionally light and stiff to span 130 feet between supports, as well as being capable of withstanding wind and seismic loading on the roof and providing lateral support to the glass façade.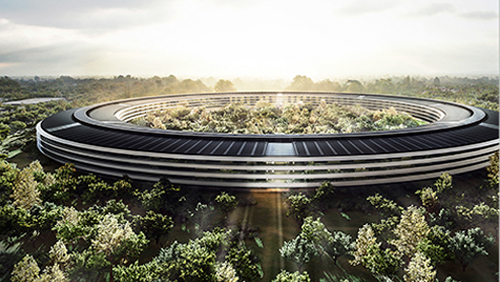 Roof of Apple headquarters in Cupertino, CA, © Premier Composite Technologies (PCT)