The gossip of "texturgie" for the Year 2016:
creating new sensitive matters by combining textile textures and high technologies
(créer de nouvelles matières sensibles en combinant textures textiles et hautes technologies)
La minute de la texturgie n° 4 - décembre 2016
The hybridisation of components to have the right material in the right place
While the weight reduction trend has driven the massive development of fibre-reinforced composites and the use of lightweight metals such as aluminium and magnesium in automotive engineering, aerospace and construction in recent years, the need to have the right material in the right place is propelling hybrid lightweight construction to ever greater significance. However, the hybridisation of components will require new developments in manufacturing technology.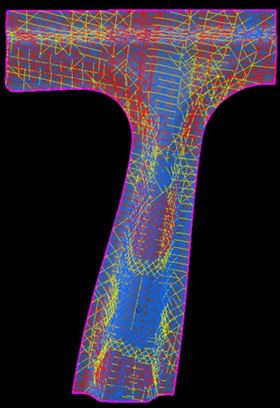 FiberSIM producibility simulation of an automotive B pillar (Picture courtesy of VISTAGY)
to know more about it -> Inside Composites
Magnetic ink to print self-healing devices
A team of engineers at the University of California San Diego has developed a magnetic ink that can be used to make self-healing batteries, electrochemical sensors and wearable, textile-based electrical circuits. The key ingredient for the ink is micro-particles oriented in a certain configuration by a magnetic field. Because of the way they're oriented, particles on both sides of a tear are magnetically attracted to one another, causing a device printed with the ink to heal itself. The devices repair tears as wide as 3 millimeters, a record in the field of self-healing systems.
In a video posted by UCSD, you can see how the researchers showcased their work by printing a self-healing circuit onto a t-shirt, which they connected to a coin battery and LED light.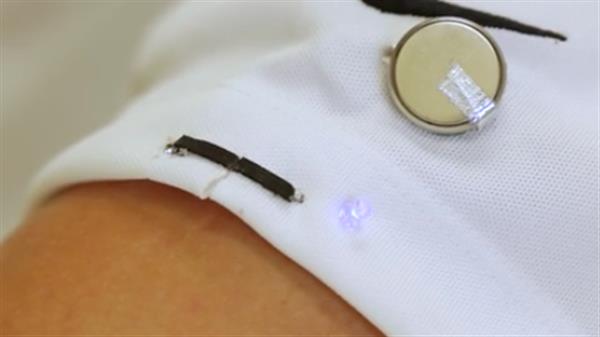 Today, the list of potential applications for textile products can be almost infinitely extended
In terms of more complex composites such as 3-D multilayer weaves and spacer fabrics, product engineers in all industries — including automotive, building construction, leisure, nautical and aeronautic — are striving to identify precise areas of application in order to merge the advanced weaving possibilities with their needs in terms of technical requirements and woven components. Thus, product designers must understand the possibilities and special advantages offered by latest weaving machines.
Filtration fabrics are among the technical textiles upon which users place the highest demands. Filter fabrics are used in process filtration, silk screening, as filter components, in medical applications. Ultrafine fabrics increasingly are used in the high-tech field of smart textiles.
to know more about it -> Textile World Asia
---
La minute de la texturgie n° 3 - novembre 2016
Making a Difference / A Difference in Making
Curated by Marta Malé-Alemany, and produced by Materialise, a pioneering company dedicated to 3D Printing, this exhibition invited visitors on a learning journey about a disruptive technology which is likely to be critical in the next decade. The Red Dot Design Museum is a reference for industrial designers. Therefore it was the perfect place to host this exhibition.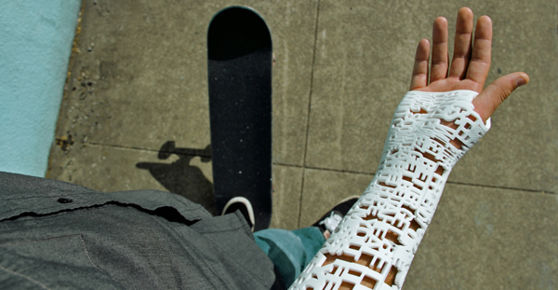 Slider SAG- Making a Difference
The first section, "A Difference in Making", featured a series of impressive and fascinating design creations that explore material opportunities enabled by the invention and development of 3D printing technology (Patrick Jouin, Iris van Herpen, Jan Wertel, Gernot Oberfell, Daniel Widrig,...). The second section, "Making a Difference", addressed three different curatorial domains: "Environment","Individual" and "Society".
LafargeHolcim innovates with 3D concrete printing
LafargeHolcim is innovating and is seizing opportunities in the 3D printing market by developing specific construction solutions. The Group has entered into a partnership with the French start-up XtreeE, which specializes in the development of large-scale 3D printing systems. This alliance has made it possible, for the first time in Europe, to market a concrete structural element created using a 3D printer.
LafargeHolcim has identified three potential markets: high value-added architecture, the individual construction of affordable homes, and the robotic construction of prefabricated building elements.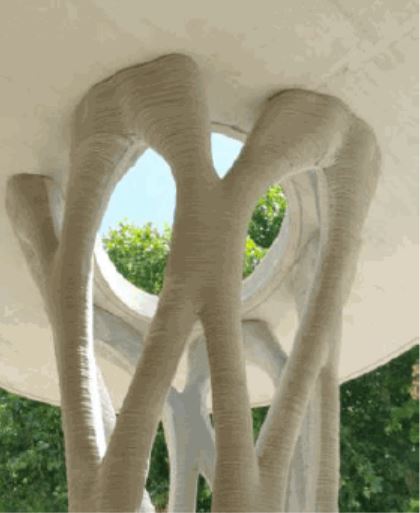 A load-bearing post printed by XtreeE and assembled by Fehr Architectural
'Space Cloth' To Revolutionize Textiles Industry
A designer and researcher has pioneered a new form of fabric which promises to revolutionize the textiles industry. Sonia Reynolds invented 'space cloth' — the first nonwoven material made from yarn. It has a strong potential for use as a smart textile due to its unique structure with space to encase copper wiring, light emitting diodes (LEDs) and more.
Scientifically named Zephlinear, unlike traditional woven or knitted materials which are made by the interloping or interlacing of yarns, it is made by a newly established technique known as yarn surface entanglement.
to know more about it -> T.EVO Textile Evolution
---
La minute de la texturgie n° 2 - octobre 2016
a provocative visual statement with a surprising solution for seismic reinforcement
With the four main islands of Japan perched atop a convergence of three major tectonic plate boundaries, the country has a history of earthquakes and seismic activity. The ongoing seismic impact on buildings, infrastructure and population is significant, requiring some of the most advanced engineering design for construction and building in the world.
So textile manufacturer Komatsu Seiren applied its own fiber-reinforcing products to its former office building to stabilize the structure against future earthquakes, linking roof to ground via cables made of carbon fiber composite, and making in this way a provocative visual statement.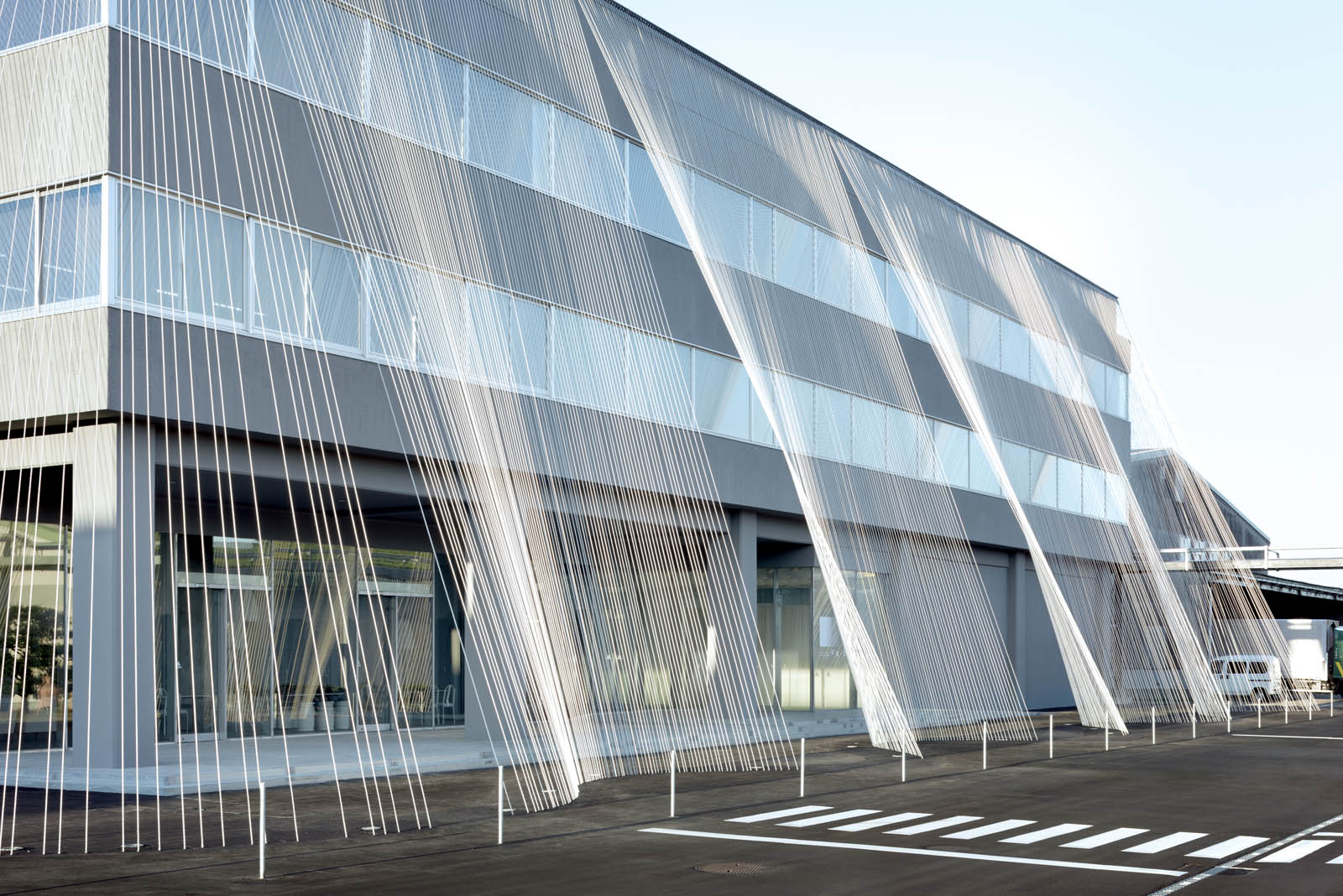 As with all composites, the strength of a material depends on all its constituent parts working together at optimum use. The fibers contribute strong tensile strength while matrixes contribute compressive strength; together they are stronger than each material is individually. The Fa-bo building exploits these qualities by adding high-strength carbon fiber composite strands on the exterior along with a diagonal grid of tensioned fiber "partition brace bearing".
a material that allows multiple functions at once with potential to add more
Washington State University researchers have developed a unique, multifunctional smart material that can change shape from heat or light and assemble and disassemble itself. This is the first time researchers have been able to combine several smart abilities, including shape memory behavior, light-activated movement and self-healing behavior, into one material. The WSU research team developed a material that allows multiple functions at once with potential to add more.
See and download a video of material moving in response to light and heat.
Colour-Changing "Smart Thread" turns fabric into a computerized display
Researchers from the Berkeley School of Information have developed a new color-changing "smart thread" that turns fabric into a computerized display. The computerized fabric technology, called Ebb, was created in partnership with researchers from Google ATAP's Project Jacquard. The project was named Ebb because the color change conjured images of the ebb and flow of the tides, rather than the rapid changes of traditional screen based media.
But Ebb isn't a light-up screen; it's just fabric that changes color. So the fabric seems a lot more tactile and intimate and give a shared sense of 'being in the know'.
The team presented their research at the 2016 CHI conference, where the project won a Best Paper award. The annual CHI conference is sponsored by ACM SIGCHI (the ACM Special Interest Group on Computer-Human Interaction).
---
La Minute de la Texturgie n° 1 - août 2016 (premier numéro)
The future of the textile industry
An interview with Christine Browaeys on Modelab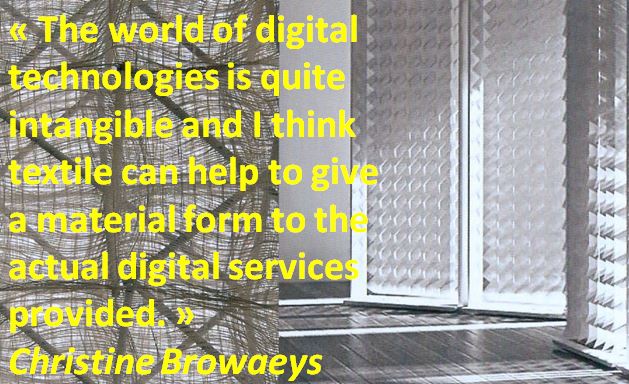 People often speak about textiles from a creative point of view but seldom as engineers or manufacturers. Which are challenges and opportunities today for the textile industry? How opening up this traditional manufacturing industry through new technologies? It's a subject well known by Christine Browaeys. She embodies a new kind of textile engineer, paraphrased in the term "texturgiste" (conveying new connections between textiles and new technologies). She comes from the world of ICT and she founded T3Nel in 2009 as a consulting office in the area of innovative textile materials. She talk us about her job, new guidance for the textile industry and how rising to new challenges in this disruptive area.
Modelab: What is your everyday work?

Christine Browaeys: I work towards long-term projects ordered by organizations like competitiveness clusters or non-technical institutions like design offices. I also do a lot of B2B actions that make skills meeting easier. For instance I actually work with a company which owns specialized 3D knitting process and we are looking together for prospects and partners in order to apply and enhance this process. So I mainly practice in two fields:
- cross-cutting skills with people who have nothing to do with textile, to get them interested in trying it
- working with textile manufacturers who are seeking diversification
Prospects are not always obvious. I'm here to give them ideas, to facilitate meeting with the right persons.
I don't want to lock myself into this textile material but I prefer to demonstrate that textile is a substrate for new materials due to its affinity with.
You are the author of "Challenges and opportunities of new textiles materials", published by EDP Sciences in 2014. Could you talk us about it?

CB: This book may be of interest to material designers (from manufacturing and research organizations), so numerous university lecturers bought it. The goal is to break down the barriers, to awaken textile revolution within students, engineers and designers. I try to demonstrate the central role played by these new textile materials which are nowadays of high relevance to all important industrial sectors.
I just use the word "texturgie" and "texturgiste engineer" to convey this message, to position myself because from my viewpoint the word "textile" is nowadays quite simplistic.
The textile industry is primarily concerned with the design and the production of yarn, cloth, clothing, and their distribution. Today textiles are used in different business sector like aeronautics, automotive or farming. The textile industry leaves its usual markets and involves cultural changes. Ready-to-wear workers are accustomed to their ways of making since numerous generations, but understanding is not the same in other contexts like automotive or medical sector.
I wrote this book to arouse this awareness. The textile industry use to evolve in a very linear way and works especially within its own sector. When somebody observes the industry in northern France, for instance, it was not very diversified on the Twentieth Century. When there was a textile industry there was practically only textile and no curiosity to see what it happens elsewhere. The textile actors did not welcome this book with a real enthusiasm when I brought it out. In fact everybody is not well aware of the textile materials scope of possibilities today. Composite materials and hybrid materials are especially essential for the future of the textile sector. So I hope this book will serve as a reference and there will be other books to go one step further.
Do you think textile industry undergoes a revolution?

CB: Yes, it's really a revolution. Connected and smart textiles make currently the buzz. Products begin to be sustainable in utilizing them. There is a real revolution in terms of matter and fibers developed in laboratories in order to make more and more advanced threads due to multi-functionalized fibers. Textile structures are drastically changing to new weaving and knitting process in 3D, new extensibility and drapability capabilities.
From my point of view composite materials and hybrid materials are really materials of the future.
The French technical textile industry exports a lot and allocates a significant budget to research and development in order to remain competitive.
Which difficulties the industry comes across to develop innovative textiles?

CB: Manufacturers are seldom reluctant to invest the field of new textiles because it means very different market prospects and new ways of working. The textile companies are often SME which have no time enough to explore new opportunities. Sometimes there is business routine or protectionist attitude to protect corporate know-how.
The textile industry's history is quite ancient. Collaborative work methods are not necessarily well organized like in the young technological sector.
Indeed potential actors in the high-tech sector are used to apply collaborative spirit like "open source" and share knowledge in order to go further. Despite everything, they can protect their core business. This new attitude did not gain ground in most of the textile industry. It is currently in progress and we ought to consider cultural and sociological aspects before outgoing co-creation with other professions related to textile. Today connected textiles are going to make a difference especially concerning design, marketing and customer service. These new textile products are bought and have afterward new functionalities which require updating, like a smartphone for instance.
How do textile manufacturers to get used to fashion system which involves customer in co-creative process and needs even more immediacy?

CB: There are many companies like Faurecia or Decathlon which work in association with their users. They apply integrated design. In other words designers, engineers, technicians and users are involved in design process. So they think function, lifespan, supply chain, customer service for a product. Some companies already work in this way like Adidas which opened an entirely automated factory in Germany. Customers will fit their demand and production will be very quick and customized due to modular tools. With consumers fair is fair.
Co-design with customer is likely to lead many changes in production process.
Shopping in line is shooting up. So we need new industrial tools to a good responsiveness considering orders. Return on investment for machinery is very high in the textile industry so manufacturers ought to be sure of selling off their products with steady markets. Machines and technologies evolve into a modular way in ICT area, in order to fit for load modulation. Servers divide up tasks with "load balancing". This operating principle is set up in factories.
Digital technologies progress at a very quick pace while the textile industry performs changes more slowly. Is this pace difference a problem for the good collaboration between these two sectors?

CB: Not necessarily. I consider that this meeting is very interesting.
The world of digital technologies is quite intangible or insubstantial and I think textile can help to give a material form to the actual digital services provided.
For instance smartphone is made of plastic or metal which is not very stimulating with regards to our senses. Textile will lend itself to load functions in the future and it will go further due to its sensual affinity. With the present technologies we can just exchange with eyesight and hearing. We do not have the same perception as in a nearby space. The textile industry is a human being industry. Of all-time textile is responding to the rhythm of time, the weaving rhythm for instance. It accompanies people in each activity (clothing, housing ...). So the textile industry progresses slowly but it has an unbroken link with the beginning of humankind. You can't say the same thing about new technologies. I think that textile is a safeguard against immateriality excess due to digital technologies.
How can progress the textile industry today? How different trades can train each other?

CB: It's not an issue specific to the textile industry. You just have to consider the whole of materials. A chapter of my book is entitled "Struggle of material classes" considering this approach. As soon as you look at the sectors of paper, plastics or ceramics you see the same approach to more and more functionalities in materials. So you have interactive papers, plastics and ceramics.
I think technologies will be brought closer to textile as a flexible material, with a multi-material dynamic.
Flexibility is the particularity of textile. Today industrial sectors often work in silos and professional federations compartmentalize the ways of working. In the future we shall be very broad-minded concerning multi-material approach which is essential for recycling. We are living in an interesting time, in a transitional area.
Do we have to come back to a hand-crafted approach in order to advance industrial technical skills?

Handicraft makes a thought-language-hand link. There are new movements like "slow made" for instance in which somebody works at a human rhythm. Quite the opposite we have to get used to the rhythm of machines in the industrial technologies area. So we can fit production into a human pace thanks to craftsperson and we have to ask ourselves about the meaning of products. It is a sensible way to redesign the industry considering excessive consumption. We could rediscover a more soothing relation with the time.
For readers interested in the French-language original edition of this article, it can be found online at the following address
Modelab #Fashiontech
---