The gossip of "texturgie" for the Year 2020:
creating new sensitive matters by combining textile textures and high technologies
(créer de nouvelles matières sensibles en combinant textures textiles et hautes technologies)
La minute de la texturgie n° 40 - December 2020
A stretchy and fully-recyclable circuit board that's inspired by human skin
Researchers at the University of Colorado Boulder are developing a wearable electronic device that's really wearable. And it's reconfigurable, meaning that the device can be shaped to fit anywhere on your body. Those stretchy devices, however, are designed to skip the landfills. If you dunk one of these patches into a recycling solution, the polyimine will depolymerize, or separate into its component molecules, while the electronic components sink to the bottom. Both the electronics and the stretchy material can then be reused.

Electronic skin device; Credits: Chuanqian Shi
First warp knitted fabrics with seersucker effect
Thanks to a recent breakthrough by Melanie Bergmann, Textile Technology Product Developer at Karl Mayer, it is now possible to produce seersucker-effect fabrics on warp knitting machines. The crepe-like surfaces ensure that the textiles do not lie directly on the skin. This allows for ventilation and moisture balance. The surface structure and elastic properties can both be changed by lapping the wrapping yarn differently.
The word seersucker originates from Persian and means shir o shekar: milk and sugar.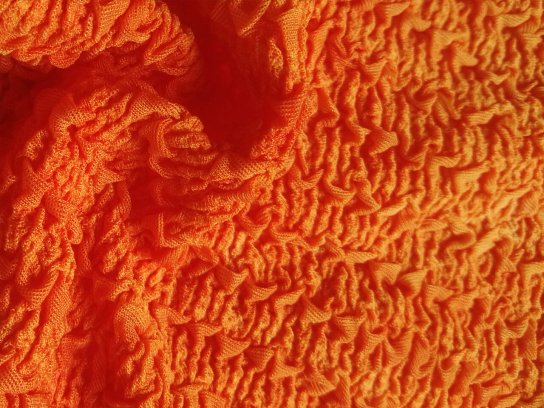 Seersucker effect in knitted fabric; © Karl Mayer.
The crucial role of printing in the development of smart new materials
The 3D-painting materials design and manufacturing system can overcome important hurdles in creating medical products that repair and regenerate tissues and organs. Chicago-based Dimension Inx introduced its 3D Painting technology for the creation of regenerative medical implants.
CTO Adam Jakus said "extrusion is carried out at room temperature, with instant solidification and without the need for any crosslinking, curing, drying times, depowdering, resin removal or bath removal, so it's as simple as you can get. The body itself is really a complex palette of materials ranging from soft to hard and that's what we're working to replicate."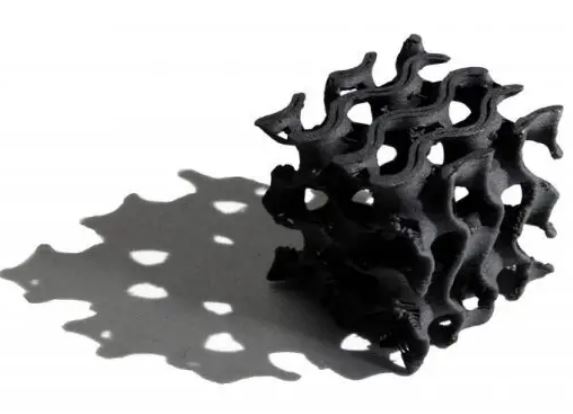 Dimension Inx biomaterials for 3D; © 3D Printing Media Network
La minute de la texturgie n° 39 - October 2020
Solar collector for energy generating clothing
Luminescent solar concentrators are already being used in the solar industry, however LSCs are currently only available as rigid components. An interdisciplinary research team at Empa has now succeeded in incorporating several of these luminescent materials into a polymer that provides flexibility and air permeability, opening up the possibility of clothing providing mobile energy supplies.
This new luminescent material is based on amphiphilic polymer co-networks and captures a much wider spectrum of light than is possible with conventional photovoltaics.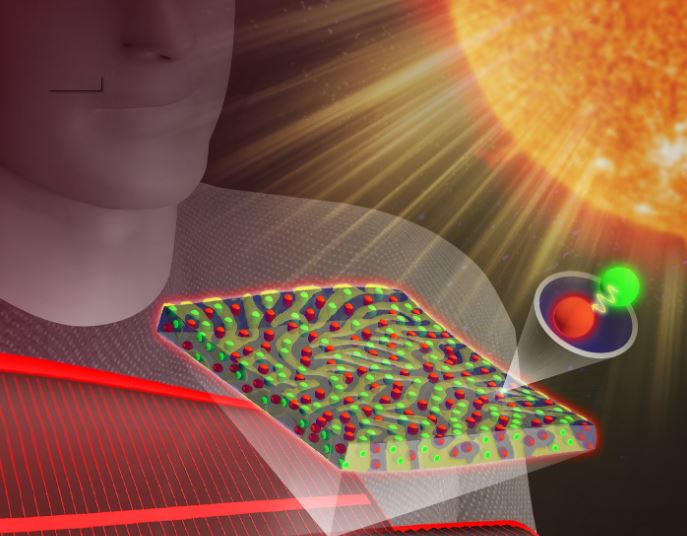 Flexible solar concentrator applied to textile; photo © Empa
A new biosynthetic nylon available
Continuously developed by French chemical manufacturer Arkema for seventy years, Rilsan® PA11 resin is a high-performance polymer of 100% renewable origin produced from castor oil. The first polyamide batch was produced in an old spinning workshop near the Risle river, hence the Rilsan® brand.
Toray Industries Inc. is an integrated chemical industry group headquartered in Tokyo, Japan, and has developed recently a new sustainable nylon developed with sebacic acid generated from castor beans. Ecodear Nylon is 60-percent bio-based and the resulting fiber, initially available in 10, 20 and 50 denier versions, can be spun in the same process as conventional nylon.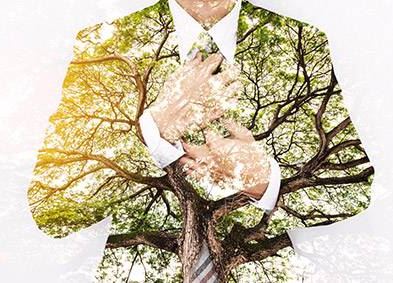 New bio-based fibres collaboration; courtesy of Just-Style.
Concept designs for connected PPE that utilize VOC sensing
Myant Inc., a global pioneer in textile computing, has unveiled concept designs for connected PPE that utilize VOC sensing, enabling new ways of holistically assessing health and performance.
The idea of wearing PPE evolved from a reactionary preventative measure in the post-COVID world. By virtue of being in close proximity to the nose and mouth, the mask form factor presents an opportunity for a connected textile to collect data on emissions from the respiratory system via volatile organic compound (VOC) sensing.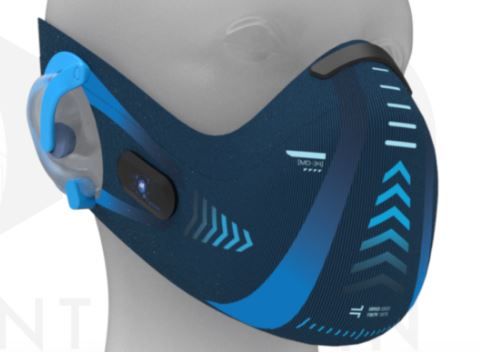 Connected mas for protection; © Myant
La minute de la texturgie n° 38 - September 2020
An entirely new class of polymers that has the potential to be recycled and reused indefinitely
An entirely new class of polymers has been developed by scientists in the US, China and Saudi Arabia. It's reported that the new material, a polythioester (PBTL), has an unusual set of physical properties which means it can be easily recycled by heating it for 24 hours at 100°C in the presence of a chemical catalyst to break it back down into its original components.
The study is the latest advance in this area of polymer chemistry and also comes as regulators accelerate moves to reduce the amount of plastic that ends up in landfill.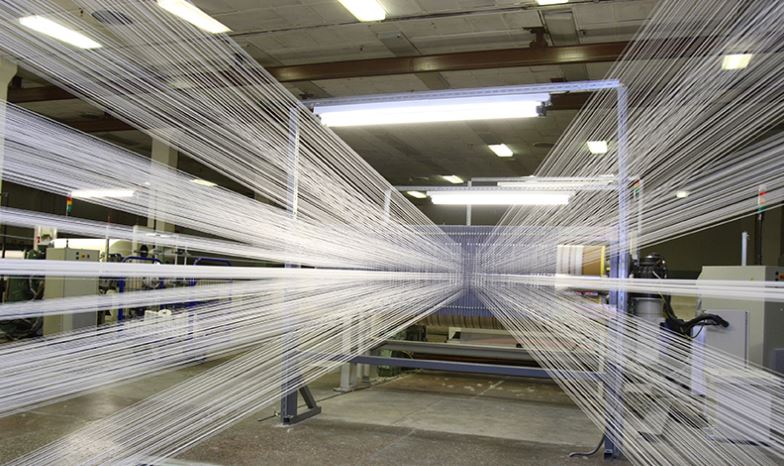 New class of polythioesters (PBTL) ; photo Ecotextile News
Adopting cleaner cutting techniques helps reduce microplastic fibers release
Researchers at the Swiss Federal Laboratories for Materials Science and Technology (EMPA) highlighted that production details such as the fabric cutting technique can drastically affect the rate of emission. Adopting cleaner cutting techniques is important for the industry to help reduce MPF (Microplastic fibers) release. A prewash of tailored garments at the factory could effectively collect a large portion of the production-inherited microfibres, up to 95 per cent of them in fact.

Microplastic fibers release; courtesy of EMPA
The largest hemp fiber processing center in the United States
Dallas-based Panda Biotech has selected Wichita Falls, Texas, to be the home of its state-of-the-art industrial hemp processing center in the United States.
The company plans on installing the largest industrial hemp decorticating, or processing, equipment ever used to separate the outer bast fiber from the inner woody core, or hurd. The fiber will be refined for textile applications, and the hurd will be processed for a variety of industrial purposes (hemp hurd is highly absorbent and rich in cellulose and great thermal and acoustic properties).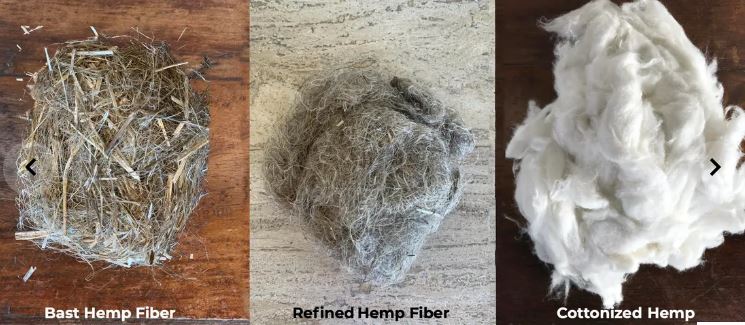 La minute de la texturgie n° 37 - July 2020
New knitting machines allow full integration of technology into the garment
The knitting industry has come a long way in the last four years with shoes and wearables leading the charge. Different knitting machine configurations are designed for flat knitting, circular knitting for body-mapped garments, knitted shoes and warp knitting. Some of them are able to produce hybrid knit-weave fabrics that allow insertion of technical yarns.
Elimination of sewing allows high potential for on-demand knitting. The seam-free nature also ensures continuity of the fabric, allowing conductive fibers to wrap around the entire body without interruption for applications in smart garments and wearable technology.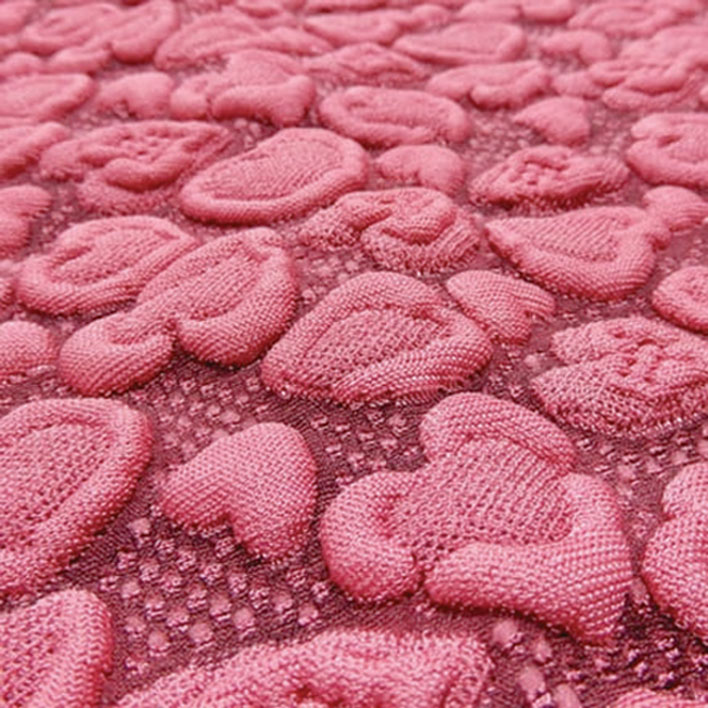 Patterning with high-quality piezo-jacquard technology; photo Textile World.
Ada: the first architectural pavilion project to incorporate AI
Named after Ada Lovelace, Ada is a cyber physical architecture that is adaptive, personal, data-driven and informed by individual and collective participation. Ada, by Jenny Sabin Studio, is a collaborative project with Microsoft Research that embodies performance, material innovation, human-centred adaptive architecture and emerging technologies. The project also employs flat knitting technology.
The installation is suspended in the airy atrium of building 99 on Microsoft's Redmond, Washington, campus.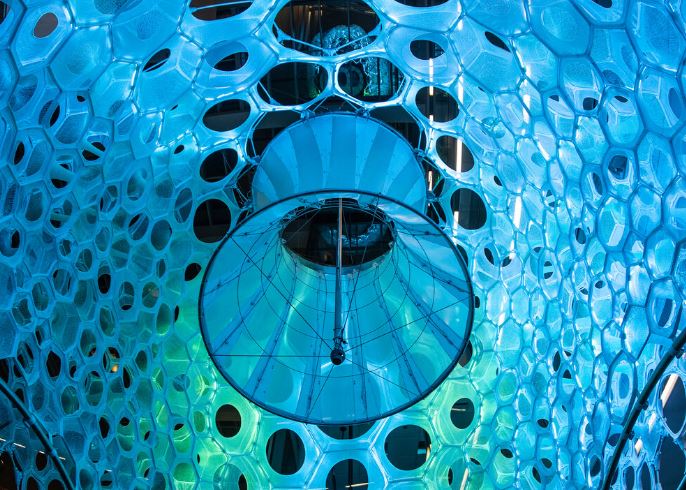 Ada, Microsoft research artist in residence 2018-2019; photo John Brecher and Jake Knapp
From pulp and paper industry to cellulose-based textile fibre
The traditional textile industry uses thousands of chemicals in various processes of manufacture, including dyeing and printing. Inherent dyeing in the Spinnova process means that the cellulosic fibre mass is dyed before extruding into filament. This avoids the excess use of water, energy, heavy metals and other harmful substances that go into dyeing fibre, and subsequent yarn and fabric processes.
Spinnova's innovation originates from the pulp and paper industry and develops ecological breakthrough technology for manufacturing cellulose-based textile fibre.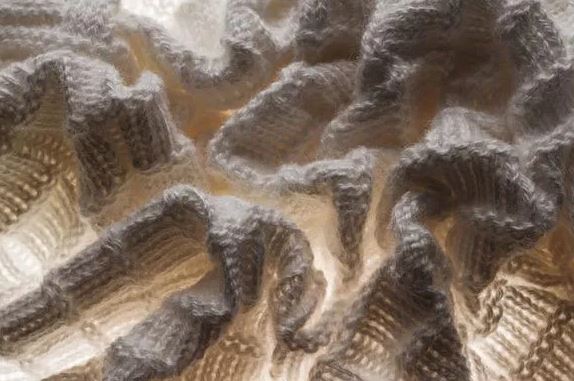 Sustainable inherent dyeing developed by Spinnova and Kemira; Pic: Spinnova
La minute de la texturgie n° 36 - May 2020
A new function of architecture for a sustainable future
Architects are fond of describing their buildings in the metaphoric terms of the human body. The supporting structure is often referred to as the skeleton that holds it up. The most exciting innovations and serious attention in the construction industries for the past 10 to 20 years has focused on the skin of buildings (the enclosure that protects the insides).
Fabric facades are a vital part of this growth and perhaps the fastest growing segment of fabric architecture production where innovations are most likely to be found. Architect Nicholas Goldsmith, senior principal of FTL Design Engineering Studio, New York, N.Y., affirms this trend in his new book, Mass to Membrane.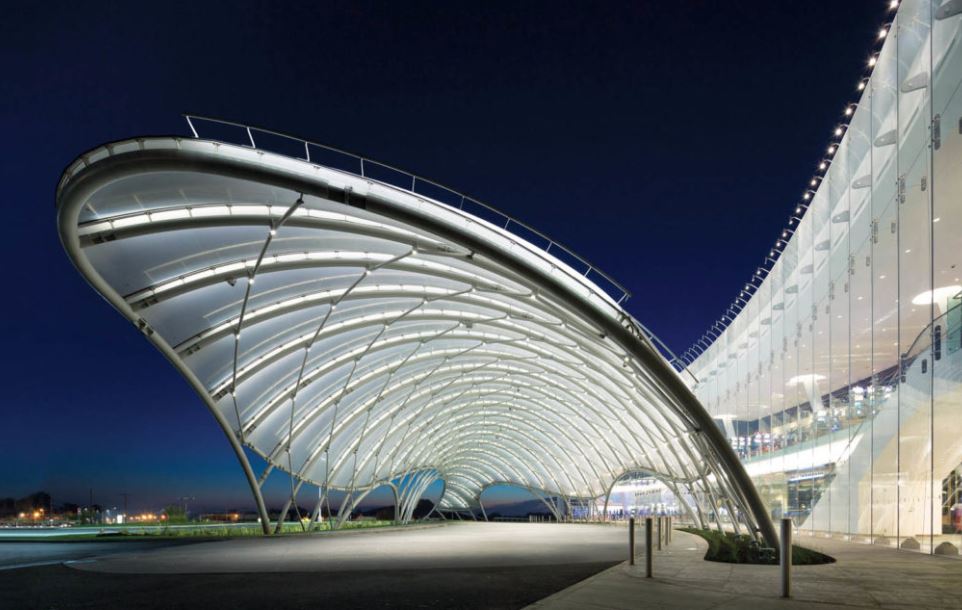 Swooping entrance canopy for the Empire Casino in Yonkers, N.Y; Specialtyfabricsreview.
A new biosensor to detect the COVID-19 virus
A team of researchers from Swiss Empa, ETH Zurich and Zurich University Hospital has succeeded in developing a novel sensor for detecting the new coronavirus. In future it could be used to measure the concentration of the virus in the environment – for example in places where there are many people or in hospital ventilation systems.
Jing Wang and his team have developed an alternative test method in the form of an optical biosensor. The sensor combines two different effects to detect the virus safely and reliably: an optical and a thermal one.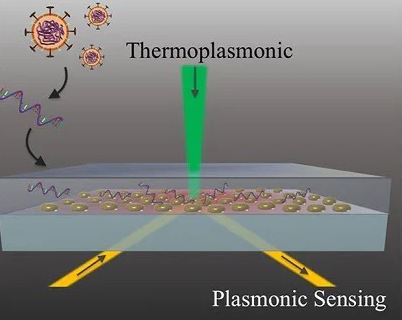 Sensor uses an optical and a thermal effect; Courtesy of American Chemical Society
EDANA Joins Circular Plastic Alliance
EDANA, the association representing the nonwovens and related european industries, has joined the Circular Plastics Alliance, endorsing a vision to deliver on the circular economy for plastics. By 2025 at least 10 million tons of recycled plastics should find their way into products and packaging in Europe each year. This consortium is supported by the European Commission in the context of the European Plastics Strategy and its concrete actions are structured around five deliverables on design, collection and sorting, recycled content R&D and investments and monitoring.
In 2018, EDANA issued a pledge to significantly increase the use of recycled PET (rPET) in nonwovens.
La minute de la texturgie n° 35 - April 2020
Impact of coronavirus on global textiles industry: current orders are down by 31%
The results show that companies in all regions of the world suffered significant numbers of cancellations and/or postponements of orders. Globally, current orders dropped by 31% on average. The severity of the decrease ranges from 20.0% in East Asia to 41% in South America.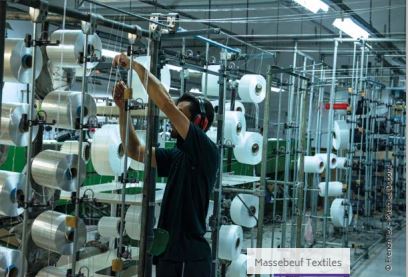 photo Masseboeuf textiles ; RA UIT 2020
Fashion brands are being urged to dramatically cut their use of virgin raw materials
The call comes in a new report, entitled the Earth Logic Action Plan, which was commissioned by the JJ Charitable Trust and written by a group of academics, business leaders and analysts.
It urges businesses across the global fashion sector to "radically transform" their models, to put nature ahead of short-term financial gain, by reducing their use of virgin resources by 75 per cent by 2030.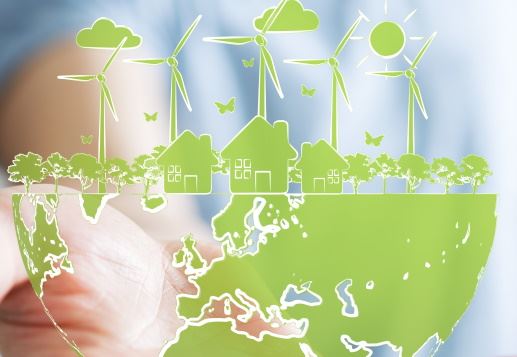 World fashion textile production; Earth Logic Action Plan report.
Copper nanoparticles being tested for anti-viral textiles
By embedding nano-copper into polymer fibres, such as nylon, via a melt extrusion process, it was found that the antimicrobial effect lasted longer than other similar antimicrobial fabrics on the market, which tended to be surface-coated and therefore lose functionality with each wash.
Pioneering UK manufacturer, Promethean Particles, reports it is collaborating with textile companies and leading research facilities to explore the anti-viral effects of its novel copper nanoparticles designed for use in fabrics and Personal Protective Equipment (PPE) for the healthcare sector.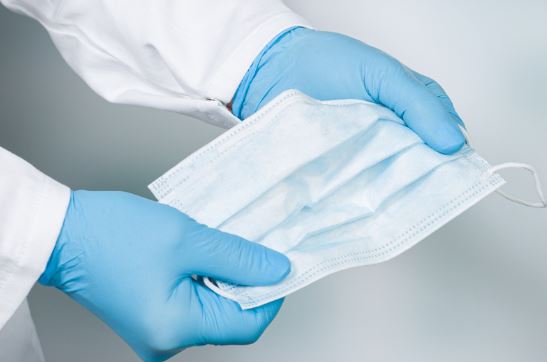 Nano-copper into polymer fibres; © Promethean Particles.
La minute de la texturgie n° 34 - March 2020
Temperature-responsive garments that maintain comfort wherever they're worn
It can be uncomfortable to wear a heavy coat on a day that doesn't need it, as well as a light jacket on a day where more warmth is needed. Skyscrape uses an innovative new type of yarn that's structured to have an exaggerated response to heat variation. As temperature changes, the active yarns in the fabric expand and contract, causing it to bend, increasing or decreasing the thickness of the fabric and its insulative properties. The fabric itself acts as a thermometer.
Creating a textile - that naturally changes shape without wires or sensors - required years of laboratory work, designing machines (weavers, knitters) and developing processes.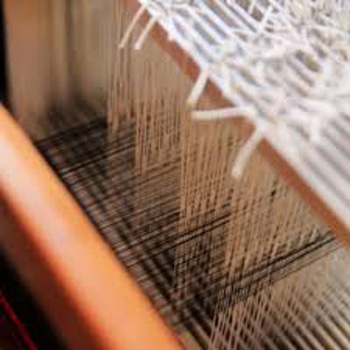 This shape shifting jacket © Skyscrape
Textile microfibres shed fast in everyday wear
New research on the extent of textile microfibre pollution in the environment suggests that garments emit substantially more microfibres when worn than they do when laundered. Whilst as many as 4,000 fibres per gram of fabric were shed in a single laundering, 400 fibres per gram of fabric were emitted in just 20 minutes of 'normal activity', suggesting the long-term implications of simply wearing garments could have a far more significant effect on the environment.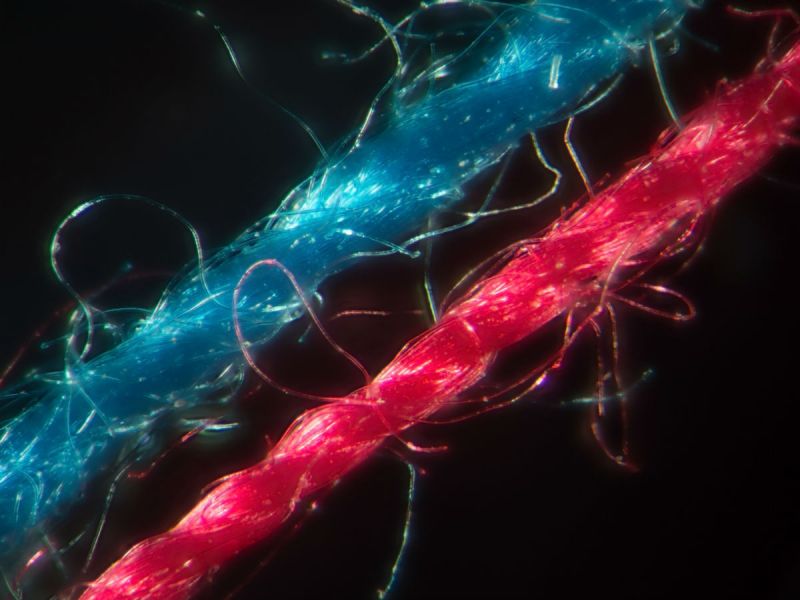 Polyester fleece microfibres under the microscope; Credit: istock
Flax roofs for Paris' Morris columns
Mecelec Composites designed the first mass-produced flax fibre roofs for the 550 Morris columns installed by JCDecaux in Paris. The new solution combines all the advantages of composite materials, lightness and strength, with stringent environmental requirements and is adapted to the safety constraints of this kind of street furniture. It's a new sustainable development application on the urban design market.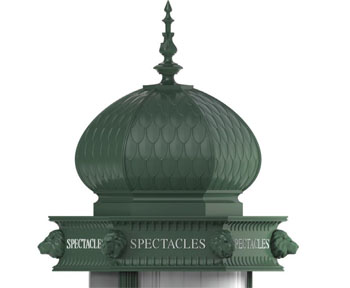 Morris column flax fibre roof; © Mecelec Composites
La minute de la texturgie n° 33 - February 2020
The skin: a gateway to the human body
The skin is the largest organ in the human body and one of the primary ways in which humans interact with the world around them. Likewise, many of the ways in which we impact the human body--from the application of heat to soothe sore muscles, to the squeeze of a hand to let someone know you care, are mediated through the skin. Myant Inc., pioneers in textile computing, exhibited at CES 2020 in Las Vegas a full-body interface implemented through textile that creates new ways to holistically understand and communicate with the human body.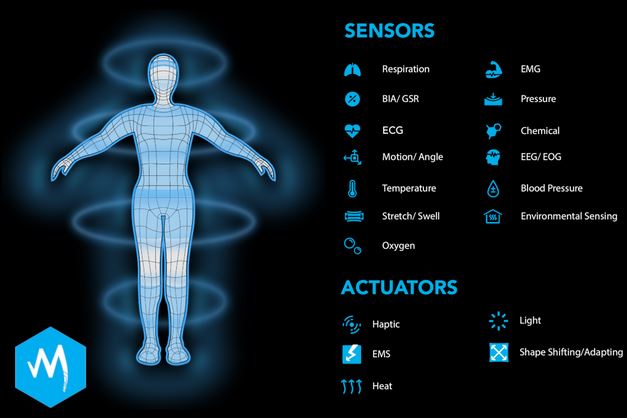 Full-body interface implemented through textile; © Myant.
How synthetic biology is dyeing the future of fashion
With 20% of the earth's water pollution caused by textile processing, and 1,800 gallons of water required to make a single pair of blue jeans, companies like Tinctorium, PILI, and Colorifix are turning to synthetic biology for solutions - making bio-based, sustainable alternatives the new vogue in fashion.
Normally, [depositing a dye onto fabric] is done with chemicals or biologically-produced compounds, but without a biological agent. Colorifix lab is using the cells themselves to both produce and deposit the pigment into the fiber, so biology is used for the entire process. It allows to save on water and energy and remove chemicals.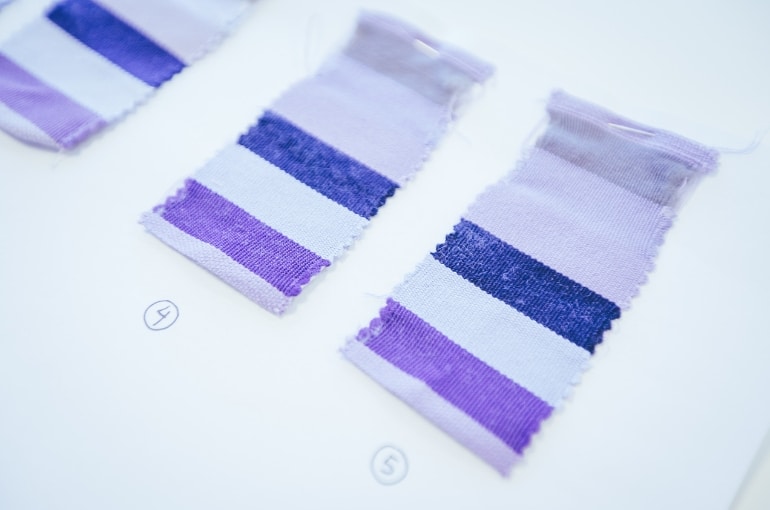 A sample of colored textiles from Colorifix's bio-based dyeing process. Image courtesy of Colorifix.
Dying textiles deep colours without water
The textile industry uses on average about 100-150 litres of water to process 1 kilogramme of textile material. Some 28 billion kilos of textiles are dyed annually. DyeCoo, based in Weesp near Amsterdam, is a leader in water-free and chemical-free textile dyeing. Its technology uses (reclaimed) CO2 as the dyeing medium in a closed-loop process. When heated and pressurised, CO2 becomes supercritical, a phase between a liquid and a gas. In this state CO2 has a very high solvent power, meaning the dye can dissolve easily and deeply into fibres, creating a vibrant colour.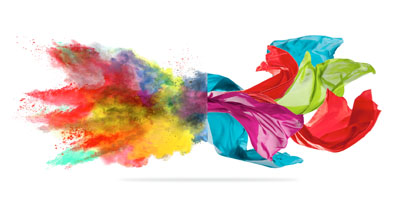 Vibrant textile colours without pollution (waterfree, processchemicalfree); DyeCoo Textile Systems B.V.
La minute de la texturgie n° 32 - January 2020
There is a high percentage of natural fibres in our water
Researchers from the University of Nottingham have found a much higher percentage of 'natural' fibres than microplastic fibres in freshwater and atmospheric samples in the UK. The potential role of natural textile fibres like cotton and wool, as an environmental pollutant, has been speculated on by some environmental scientists, but there has been a general consensus that their biodegradability reduces their environmental threat (in comparison to that of plastic).
But are natural fibres really better for the environment than microplastic fibres?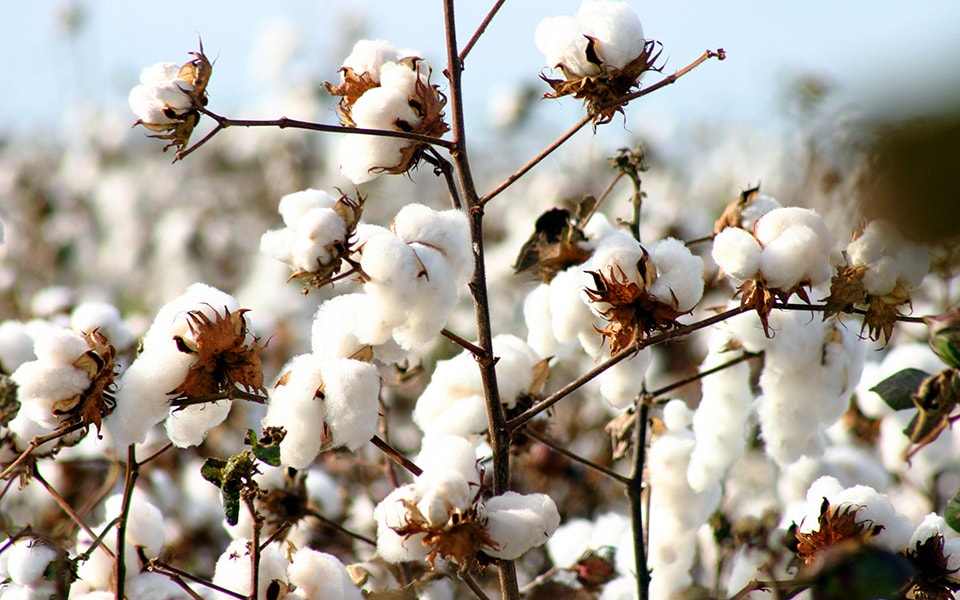 Egyptian cotton; photo DNFI.org
New hemp factory will be biggest in the US
The U.S. hemp industry was made possible due to the passage of the federal Hemp Farming Act of 2018. Panda Biotech plans on deploying the most technologically advanced, highest capacity and first-of-its-kind industrial hemp decorticating equipment ever used to separate the fiber and cellulose from the stalk.
The processed fiber and cellulose from industrial hemp can be used in the production of a multitude of products including textiles, a wide array of building materials and finishing products. The global industrial hemp market is projected to grow from $4.6 billion in 2019 to $32 billion by 2022.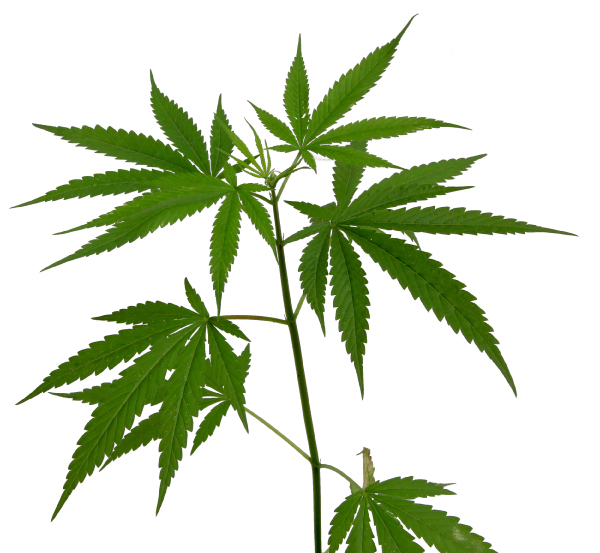 Feuilles de chanvre cultivé ; photo Chanvria
Selecting the ideal fiber and weave for medical device textiles
Weaving biomedical textile structures, such as straight, tapered, flared, and bifurcated vascular grafts, is an art requiring precision and unwavering attention to detail. The structures are made by weaving, knitting, and braiding, in which two sets of fibers or yarns are tightly interlaced.
Dimensional stability enables structures to retain their shapes for longer periods of time, and low elongation in a woven structure ensures the device serves its intended purpose. Appropriately selecting a biomedical fiber for a given application depends on the performance required of the biomedical device in question.