The gossip of "texturgie" for the Year 2017:
creating new sensitive matters by combining textile textures and high technologies
(créer de nouvelles matières sensibles en combinant textures textiles et hautes technologies)
La minute de la texturgie n° 14 - décembre 2017
Body heat powers new thermoelectric generators
The usual design of thermoelectric generators is based on inflexible inorganic materials that are too toxic to get involved in wearable devices, while the power output needs a temperature differential from the two sides of generators, making their use of body heat problematic. Achieving sufficient thermal energy from skin contact is also difficult.
To resolve these issues, researchers at Georgia Institute of Technology developed a device with thousands of dots made up of alternating p-type and n-type polymers in a tightly packed configuration. The pattern converts more heat by area because of the large packing densities allowed by inkjet printers. When the polymer dots are positioned near each other, the interconnect length decreases, thereby reducing the total resistance and leading to a higher power output. The wiring patterns used space-filling curves, which allows for surface conformation and self-localization, and therefore a more uniform temperature.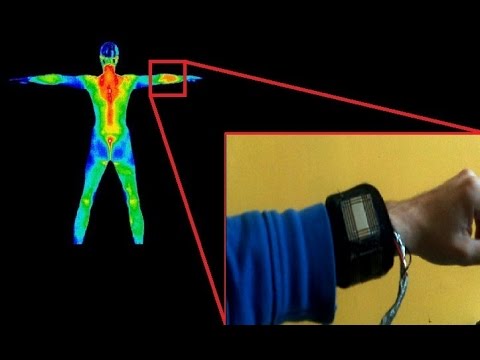 Wearable Thermoelectric Body Heat to Electricity Energy Harvester Wristband 2014
Marimekko has teamed up with Spinnova to scale use of viscose alternative
As part of its sustainability strategy to 2020, clothing and textile retailer Marimekko has teamed up with fellow Finnish company Spinnova to help to scale-up the use of alternatives to viscose textiles that are produced directly from wood pulp, but without the use of harsh chemical solvents. Fibres are made using a unique wet extrusion process based on the flow properties (rheology) of a modified aqueous wood fibre slurry. A fabric made with Spinnova fibre can be reused, recycled or composted, which further reduces the product's environmental footprint.
Marimekko is also set to increase its proportion of BCI (Better Cotton Initiative) sourced cotton fabrics and new materials. Spinnova is a Finnish wood fibre company that develops ecological breakthrough technology for manufacturing pulp-based textile fibre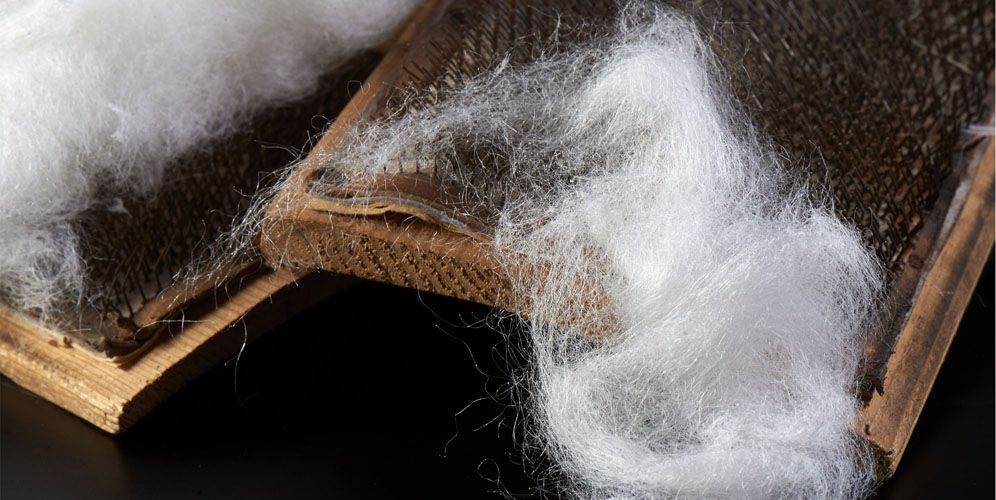 Modified aqueous wood-based fibre, courtesy of Spinnova
A new fabric retaining its deep black color for use as formal wear
To realize a premium black color, Teijin Frontier developed a new polyester combined-filament yarn by incorporating a new polymer technology and a new yarn-processing technology with orientation control. Light reflection was suppressed by lowering the refractive index and using thin-film fabrication processing to make the yarn bulky, so low transparency is achieved without shrinkage of the fabric.
Reduced shrinkage and greater bulkiness decreased whitening surface.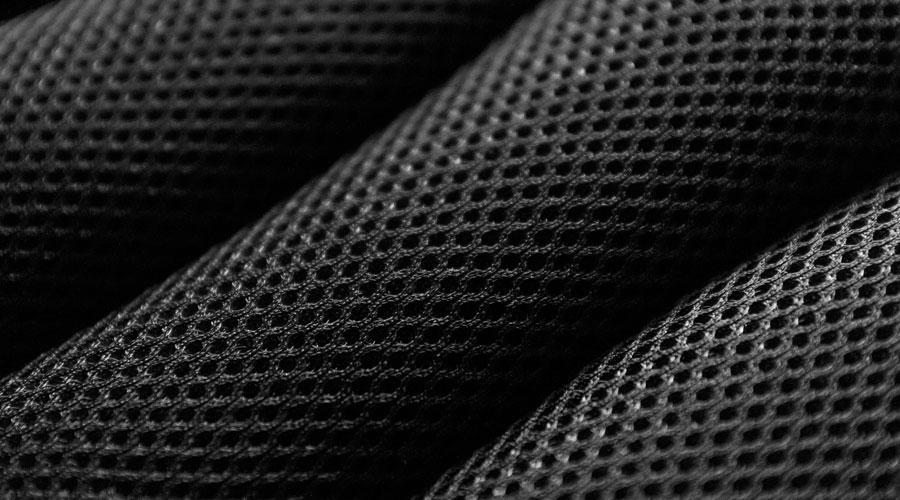 Teijin's New Fabric Premium Black Color, courtesy of Teijin Frontier
La minute de la texturgie n° 13 - novembre 2017
INDA rebrands "Nonwovens" to "Engineered Material Solutions"
The Association of the Nonwoven Fabrics Industry is working with EDANA, the European nonwovens association, to secure approval for a new definition of nonwovens through the International Standards Organization (ISO). To better reflect the dynamic, technology-based nature of the industry, INDA has launched a rebranding initiative which includes a video that positions "nonwovens" as "engineered materials" and highlights the breadth of nonwoven applications.
According to INDA President Dave Rousse, this rebranding is critical to ensure nonwoven industry is properly recognized, attractive to newcomers and defined as being independent from textiles to enable fair tariff treatment.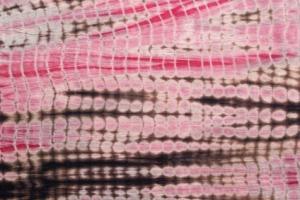 Nonwoven scaffold for tissue engineering
Polymer composite combines novel properties and is electrically conductive
Composites that simultaneously combine light weight with high electrical and low thermal conductivity are very desirable for aerospace, marine, and energy applications but are hard to achieve in practice.
Researchers from FIDAMC and IMDEA Materials Spanish Institutes created a novel hybrid filler for polymer composites in the form of hollow glass microspheres covered with carbon nanofibers. They believe that their approach could pave the way for a new generation of hybrid fillers to bring novel combinations of properties to composites.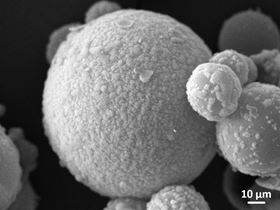 Hybrid filler for polymer composites, courtesy of Roberto Guzman de Villoria
Supercritical CO2 processing to reduce the detrimental impact on the environment
Increasing consideration of ecologic consequences of industrial processes has promoted research for replacement of conventional technologies. There are opportunities to borrow nascent and emerging technologies, such as superfluid extraction and laser processing methods, to develop nanopore-based high-performance textiles.
Mumbai-based The Synthetic & Art Silk Mills' Research Association (SASMIRA) is working on super-critical fluid techniques to impart waterless finishes to textiles. Carbon dioxide is the most investigated and would be used as supercritical fluid as a dyeing media.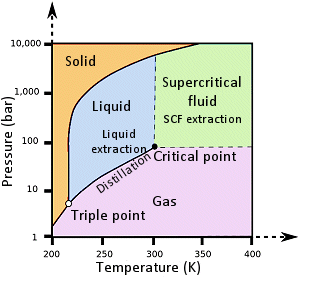 Phase diagram for CO2, courtesy of ChemViews
La minute de la texturgie n° 12 - octobre 2017
The WEAR Sustain initiative has become the catalyst behind the development of sustainable wearables
Managed by a consortium of seven organizations across five EU countries, WEAR Sustain has funded 23 pioneers of ethical and sustainable wearables, and smart textiles through the Spring 2017 Open Call.
Textile Reflexes' approach is a dynamic and playful smart fabric that easily adapts. If the shape changing textile is connected to the internet, we get to robotic textiles as a part of the Internet of Things. Taking a slightly different approach is Closed Loop. The project is a smart athleisure collection designed to continuously measure the wearers' key vital signals.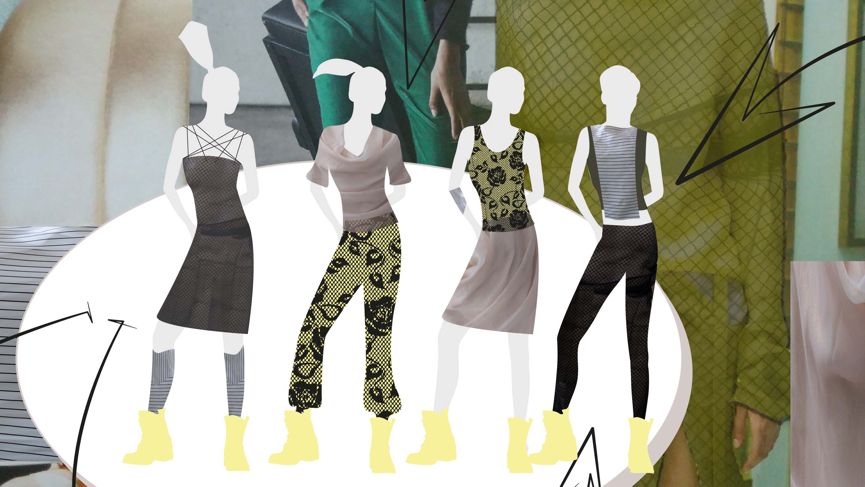 a smart athleisure collection designed, Closed Loop project
EU amends Ecolabel criteria for textiles
The European Commission has published an amended decision which establishes the ecological criteria for the award of the EU Ecolabel for textile products. The document further specifies to which textile fibres the ecological criteria apply and expands the range to include intermediate textile products. In addition, non-fibre elements now comprise intermediate products that are incorporated into textile clothing and accessories and interior textiles, including zips, buttons and other accessories, as well as membranes, coatings and laminates.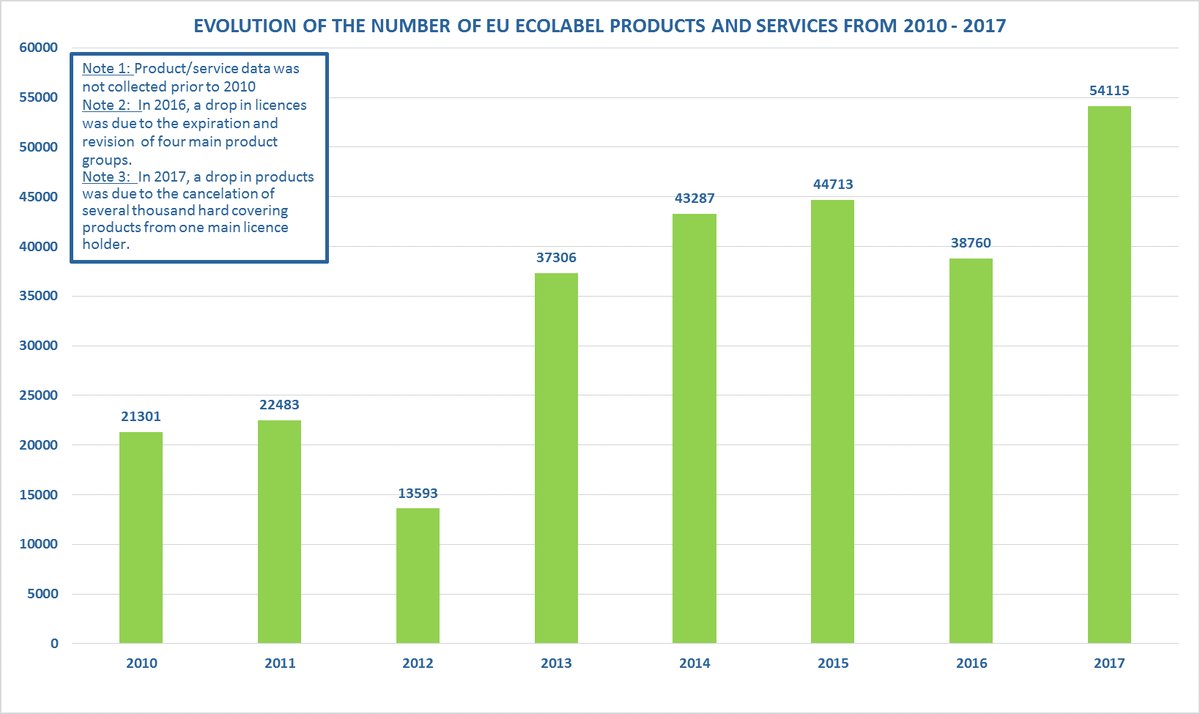 Evolution of the number of EU ecolabel products and services from 2010-2017, European Commission
Interdisciplinary team cracks code to produce Mother Nature's dictionary of atomic structures
Grain boundaries are the microscopic, disordered regions where atom-sized building blocks bind the crystals (i.e. grains) together in materials. More importantly, grain boundaries help to determine the properties of metals, influencing their strength, corrosion resistance and conductivity.
Now, an interdisciplinary research team at Brigham Young University have cracked the code by juicing a computer with an algorithm that allows it to learn the elusive 'why' behind the boundaries qualities.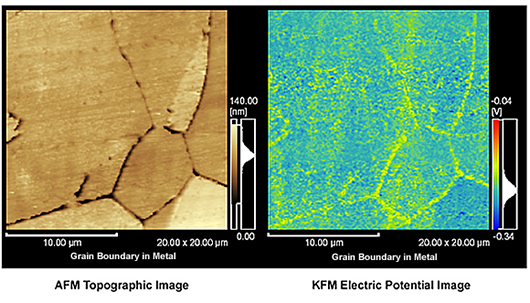 Observation of grain boundaries in metal, courtesy of Shimadzu
La minute de la texturgie n° 11 - septembre 2017
Thermal control technology in textiles expands to a wide variety of industries
Depending on the desired outcome, an approach to thermal control can take several forms: by physical means, such as shape-shifting textiles that open a vent or "pore" to let heat out of, or into, a device's textile cladding; by reflecting heat or light away from the surface; by moving heat around in mass, most often in the form of a phase change material (PCM); or by some combination of these approaches.
These methods are being applied to products in an ever-growing number of industries, such as automotive/transportation, architecture and construction, solar thermal energy systems and in medical devices or processes.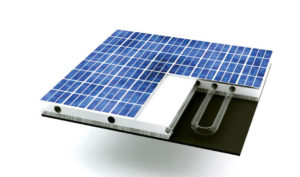 Textile-based PV/T system, courtesy of Textile Testing & Innovation, LLC
DuPont unveils newest smart clothing technology
In continuation of its regular research & development activities DuPont has launched Intexar smart clothing technology, which is a new generation of stretchable electronic inks and films for smart clothing.
With Intexar, ordinary fabrics can be transformed into active, connected, intelligent garments that provide critical biometric data including heart rate, breathing rate, form awareness and muscle tension. The newly achieved technology offers superior stretch and comfort and is easily integrated into garments to make smart clothing.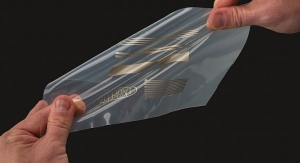 DuPont Intexar smart clothing technology, courtesy of Ink World
Fibre versus Fibre or fake news?
A recent report on the fashion industry calls for brands to use more man-made fibres. That market is already dominated by oil-based synthetic filament fibre, much of it polyester staple used in direct competition for cotton. While natural fibers currently account for 30% of total fiber production, that hasn't always been the case. How reports like these favor synthetics and the wool industry's response:
The Pulse Report published in May props up the fast fashion business model and bases its conclusions on incomplete life cycle data. Wool has a long history of use in modern apparel and high-end fashion, and its uses in sleepwear, protective wear and athletic and leisurewear are gaining appreciation. Research suggests wool garments are worn for longer and retained for longer than those made of other fibers, and suitable for recycling.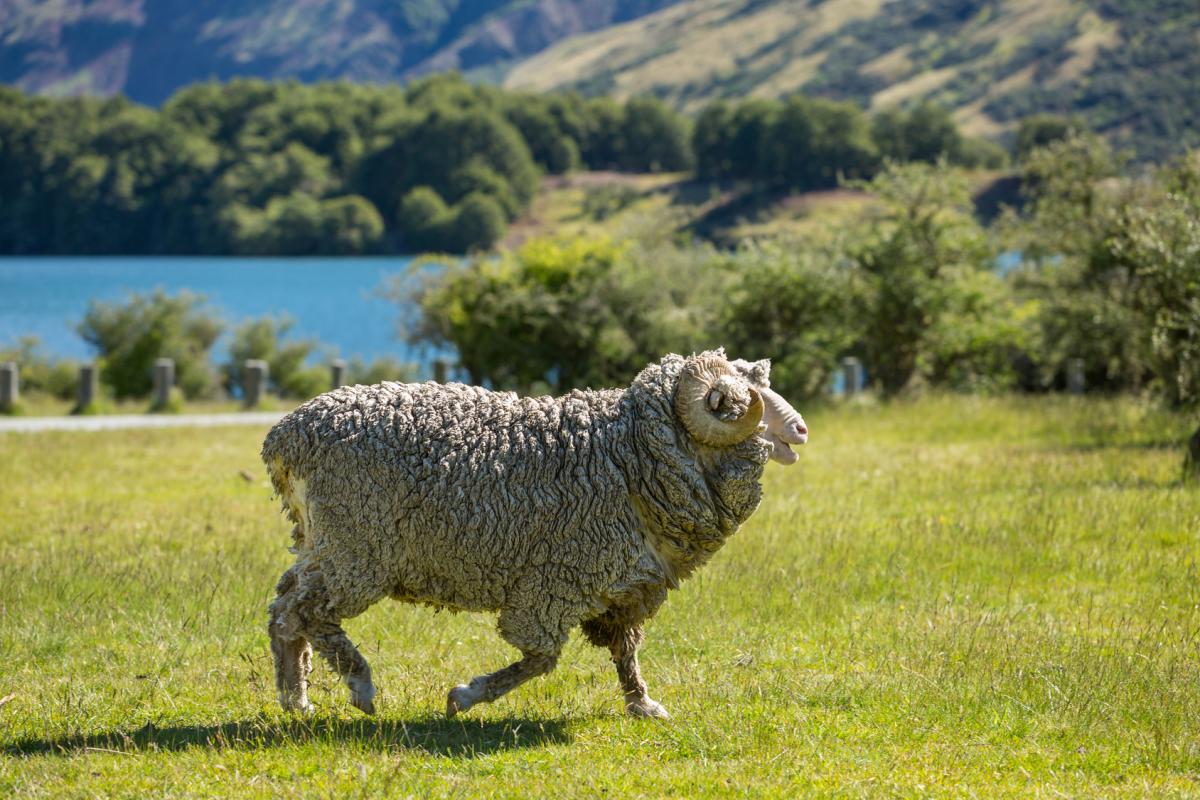 Merinos sheep, courtesy of IWTO
La minute de la texturgie n° 10 - juillet 2017
Prelle et Cie partnered with the Gardner Museum to restore brilliance
The Isabella Stewart Gardner Museum, built in the style of a 15th century Venetian palace, opened in 1903 to house her extensive collection. Gardner had collected a number of 17th- and 18th-century Italian and Spanish silk damask and velvet fabrics, covering the walls in the Raphael Room.
To re-create Gardner's treasured fabrics from photographic evidence and internal archives, the museum partnered with Prelle, the centuries-old French weavers—which, coincidentally, possessed examples of some of the desired materials in its own collection. These exceptional achievements would not have been possible without the fabulous archives owned by Maison Prelle.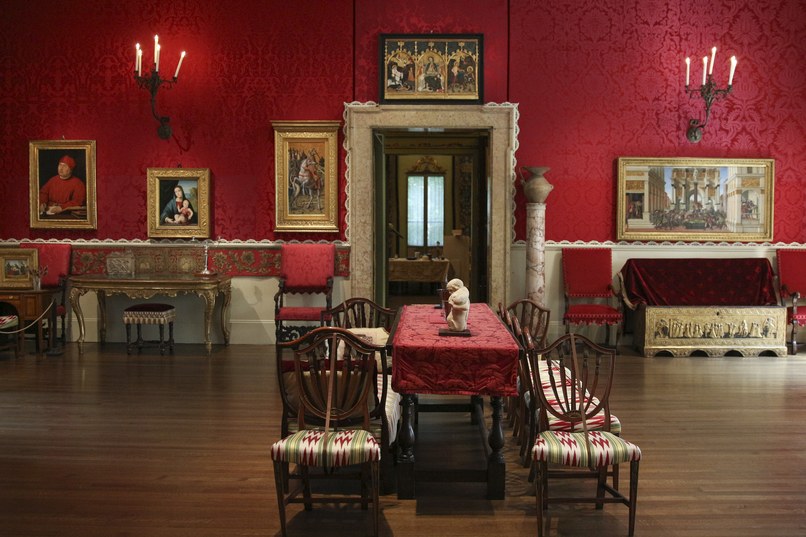 A view of the newly refurbished Raphael Room, courtesy of the Isabella Stewart Gardner Museum
Does PCM keep what it promises?
So-called temperature controlling Phase Change Materials (PCM) are used in many products in the meantime, for example in outer ware, under ware, socks, accessories, footwear, bedding, or sleeping bags. But the heat-insulating properties of PCM products vary widely and depend on the basic construction of the textile.
A research project currently underway at the Hohenstein Institute has developed the first measuring method that aims to allow the effect and efficacy of PCM in textiles to be tested without costly wearer trials.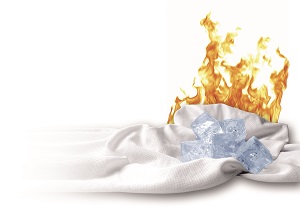 How PCM works in textiles, courtesy of the RAL Institute for Quality
Fashioning disruptive business models
A number of companies have focused on creating increasingly closed loop systems, where a linear "take-make-use-waste" system is replaced with a circular model, where products are recovered, and recycled, no mean feat for the fashion industry that has traditionally focused on quick turnarounds of seasonal merchandise. These approaches are important elements in creating a more sustainable clothing system that, if widely adopted, could drastically reduce waste and relieve pressure on the agricultural system at the start of the supply chain.
But the mainstream shift to new business models is some way off yet. The time is ripe for more disruptive innovations that can bring about long-term change.
Changing corporate models for good, Innovation Forum
La minute de la texturgie n° 9 - juin 2017
Prize for Deployable Roof
TUM student Katrin Fleischer won the first prize in the category macro architecture at the competition "Textile Structures for New Building 2017" with a design developed as part of the "Experimental Structures" project at the Chair for Structural Design in summer semester 2016. This mobile canopy consists of a folding support grid in the form of a barrel vault. An integrated membrane covering is held under tension by bending active slats.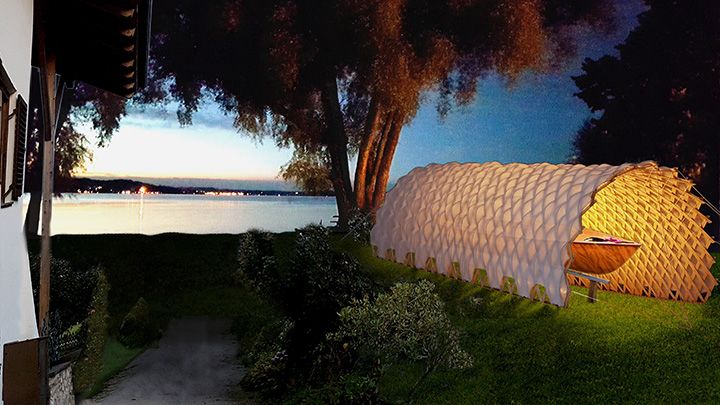 Deployable roof, credit: Katrin Fleischer
New process for 3D printing of cellulose
While cellulose is biodegradable, biorenewable, biocompatible, mechanically robust and chemically very versatile, on heating it thermally decomposes before becoming flowable, partially due to hydrogen bonds between the cellulose molecules. This intermolecular bonding makes high-concentration cellulose solutions very viscous and therefore not easy to extrude. However, two scientists at MIT have developed a new method that could provide a viable alternative to the polymers currently used in 3D printing materials, with potential applications in the many industries that use cellulosic materials and would benefit from the customization that additive manufacturing brings.

To demonstrate the chemical versatility of the production process, MIT researchers added an extra dimension to the innovation. By adding a small amount of antimicrobial dye to the cellulose acetate ink, they 3-D-printed a pair of surgical tweezers with antimicrobial functionality. Courtesy of the MIT researchers.
Sense of touch with synthetic skin
Human skin is an incredibly complex system capable of detecting pressure, temperature and texture through an array of neural sensors which carry signals from the skin to the brain. Engineers from the University of Glasgow, who have previously developed an 'electronic skin' covering for prosthetic hands made from graphene, have found a way to use some of graphene's remarkable physical properties to use energy from the sun to power the skin.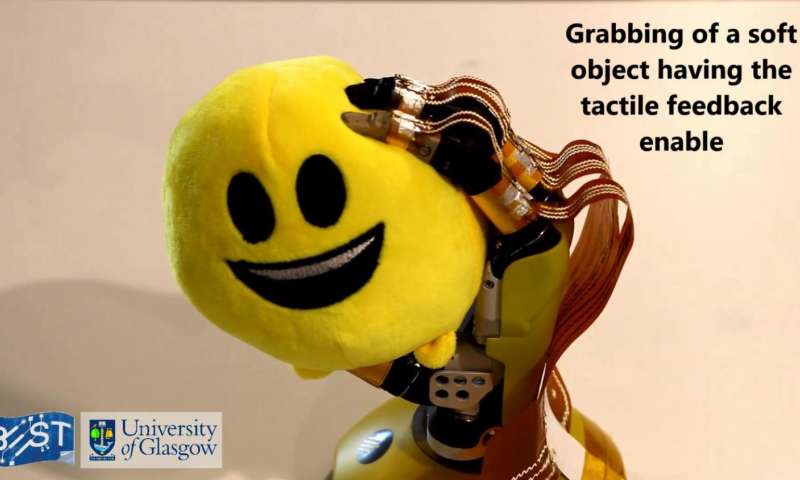 Tactile feedback of electronic skin, courtesy of University of Glasgow researchers
La minute de la texturgie n° 8 - avril 2017
Mathematics + design = visual drama
The science and art of mathematics comes together dramatically in the redesigned Mathematics: The Winton Gallery at London's Science Museum. Zaha Hadid Architects created the design in collaboration with curator David Rooney. The exhibit showcases 400 years of mathematics history from the renaissance to the present day. The aircraft is an inspiration for the gallery design. The layout and lines of the space represent airflow that would have surrounded the plane in flight.
The curved overhead structure was created by assembling fabric on powder-coated aluminum frames. It seems to fold in and out of itself around the gallery, like connecting air currents.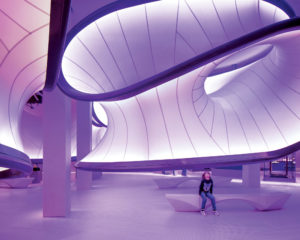 Dramatic fabric-covered structures demonstrate the mathematics behind the flow of air. Photos: Luke Hayes
Silk sensor could speed development of new infrastructure, aerospace and consumer materials
What is needed are new lightweight, energy-saving composites that won't crack or break even after prolonged exposure to environmental or structural stress. To help make that possible, researchers working at the National Institute of Standards and Technology (NIST) have developed a way to embed a nanoscale damage-sensing probe into a lightweight composite made of epoxy and silk.
The probe, known as a mechanophore, could speed up product testing and potentially reduce the amount of time and materials needed for the development of many kinds of new composites.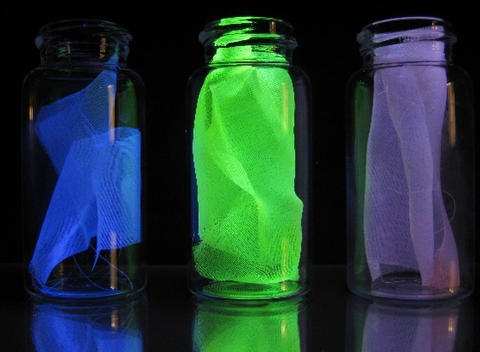 Examples of the silk used in experiments, credit: Chelsea Davis and Jeremiah Woodcock/NIST
Amazon won a patent for an on-demand clothing manufacturing warehouse
Amazon was awarded a patent for an on-demand manufacturing system designed to quickly produce clothing — and other products — only after a customer order is placed. Once various textile products are printed, cut and assembled according to the orders, they can be processed through a quality check, photographed for placement in an electronic commerce system, shipped to customers and/or stored in a materials handling facility for order fulfillment.
Two of the inventors named in the patent are Aaron Barnet and Nancy Liang, co-founders of the 3-D printing startup Mixee Labs, who went to work at Amazon in 2015.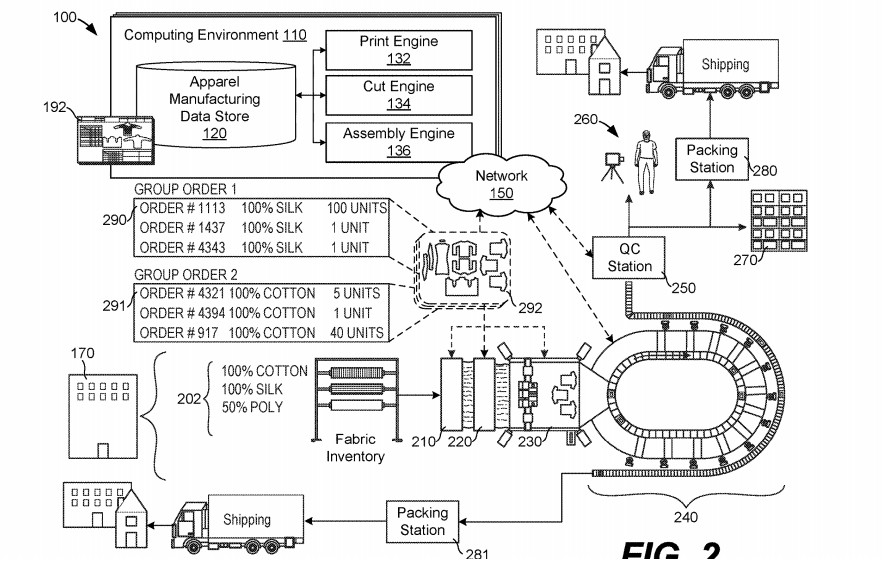 Textile manufacturing 4.0, Amazon patent 2017
La minute de la texturgie n° 7 - mars 2017
Smart fashion interview with Christine Browaeys, T3Nel,
by Rebecca Everett, currently studying Fashion Management at Nottingham Trent University in the UK
I noticed you were amongst the experts involved in the Premiere Visions' conference on the theme, "Fashiontech, future scene or utopia".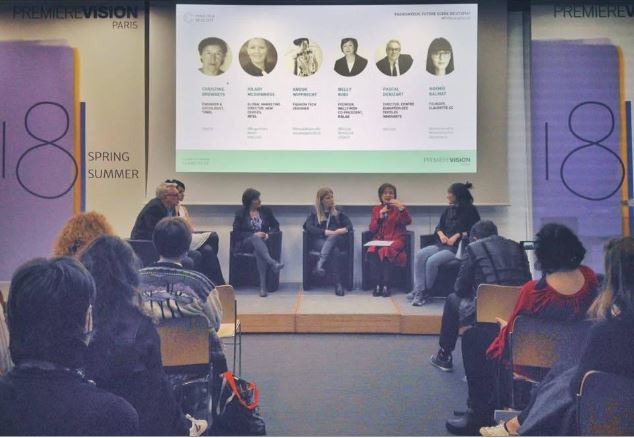 - Would you be able to explain a bit about what is T3Nel and what you do?

I embody a new kind of textile engineer, paraphrased in the term "texturgiste" (conveying new connections between textile textures and new technologies). I come from the world of ICT and I founded T3Nel in 2009 as a consulting office in the area of innovative textile materials.
Nota: the acronym T3Nel stands for "ICT, Textiles, new Technologies


- I am aware you have spoken at the Premiere vision conference in Paris on the 8th Februrary. Would you be able to explain briefly what you spoke about at the conference regarding the future of Fashiontech?

I tried to give an engineering outlook in the new mix of fashion and technology. Nowadays, we are living in a world pervaded by digital technologies. The world of digital technologies is quite intangible or insubstantial and I think textile can help to give a material form to the actual digital services provided. Textile is a way of creating a tangible connection to the world.
Furthermore, we must learn to design "calm technology", related to the notion of affordances, for a more humanly empowered twenty-first century.


- With all the research that has been done with innovative textile materials, what do you think are the textiles of the future?

I'm the author of "Challenges and opportunities of new textiles materials", published by EDP Sciences in 2014. I try to demonstrate the central role played by these new textile materials which are nowadays of high relevance to all important industrial sectors.
Textile industry undergoes a revolution. Connected and smart textiles make currently the buzz and begin to be sustainable. Textile structures are drastically changing to new weaving and knitting process in 3D, new extensibility and drapability capabilities, and more and more advanced threads. Composite materials and hybrid materials are especially essential for the future of the textile sector.


- How do you think smart textiles can change the fashion industry?

Smartphone is made of plastic or metal which is not very stimulating with regards to our senses. With the present technologies we can just exchange with eyesight and hearing. We do not have the same perception as in a nearby space.
Textile will lend itself to load functions in the future and it will go further thanks to its sensual affinity.


- Could you say which brands/designers you think are doing well in the current smart clothing market?

Textile designer/artist plays a changing role in the society's transforming industrial production. An understanding of this role is important not only for designers/artists themselves and the future shape of our industrial production, but also for the needed and awaited transformation of the education curricula.
For instance, I would rather quote:
The education system is "obsolete" and fails to reflect the way creative people work, according to trend forecaster Li Edelkoort, who is introducing a new department of Hybrid Design Studies at Parsons School of Design in New York, which will encourage inter-disciplinary collaboration.

Marchesa designers and cofounders Georgina Chapman and Keren Craig teamed up with IBM's cognitive computing system Watson to design a "cognitive dress" that will be worn by a yet-to-be-named model. The dress is a data-driven garment whose embedded LED lights will change colors in real time, shifting with the social media mood of users.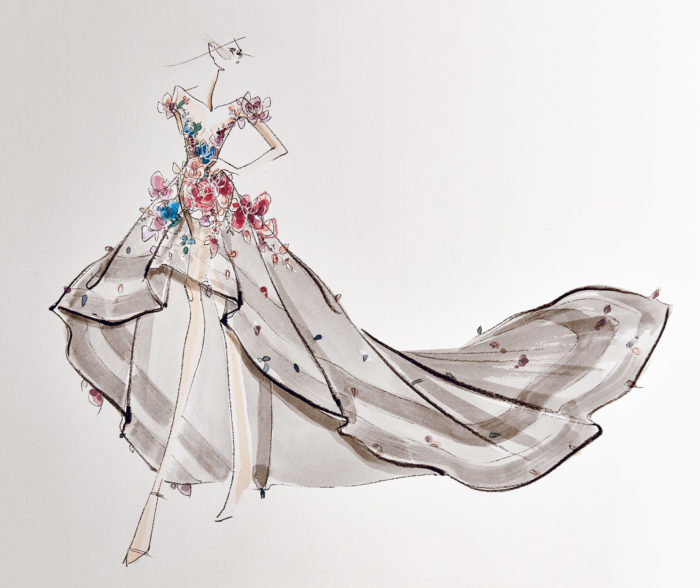 Concept design by Marchesa (D_KEITH_2016_IBM_MARCHESA)
- Are there any smart materials that come to mind can help our planet that can be used to create clothing i.e. that are biodegradable that will reduce landfill?

The most basic building block of fabrics is fiber, and one of the most basic building blocks of life is carbon. Carbon fiber's high strength and low weight makes it ideal for applications where the finished product needs to be as light and as strong as possible. But significant amounts of energy are used to achieve the high temperatures required in the production process used to create carbon fiber. This contributes to a relatively high cost of carbon when compared to other materials... It will be interesting to see where this technology goes and how it contributes to advancements in apparel.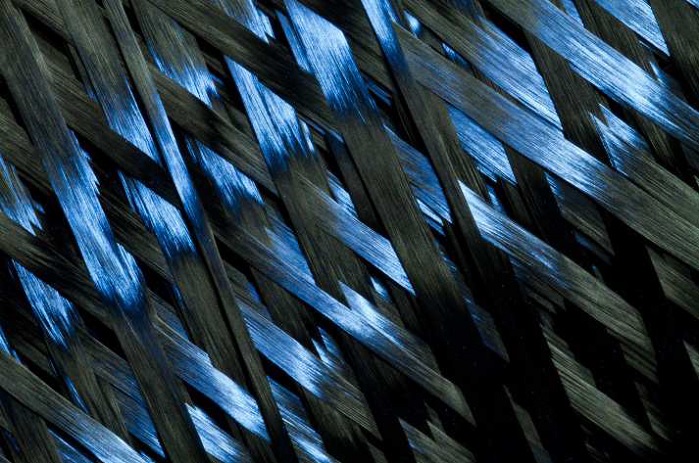 Carbon fibers (picture courtesy of ITCF Dekendorf)
La minute de la texturgie n° 6 - février 2017
Sicomin supplies composite materials for new Russian Orthodox Cathedral in Paris
Sicomin has supplied a complete package of composite materials to produce both moulds and parts for the five-gilded domes of the recently inaugurated Russian Orthodox Cathedral in Paris. Working alongside Multiplasta, Sicomin was able to support in realizing architect Jean-Michel Wilmotte's contemporary design.
The dome panels themselves were produced at Multiplast's factory in Vannes. By combining their heavyweight quadaxial fabric style QX1180 with a woven 500gsm fabric, Sicomin was able to provide a laminate with no print through and excellent top surface flow characteristics.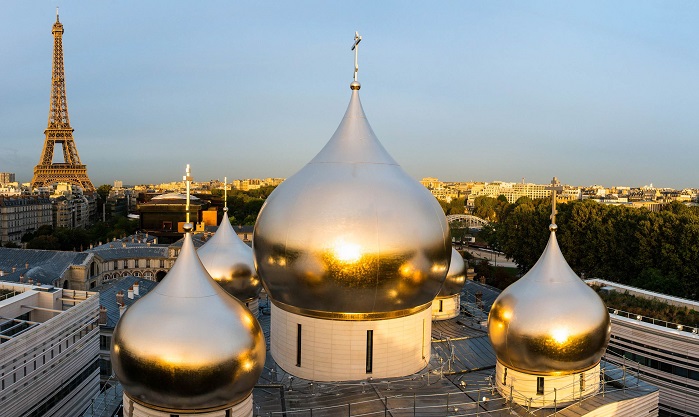 Five-gilded domes of the Russian Orthodox Cathedral in Paris (picture courtesy of Sicomin)
A wearable sensor which enables visually impaired to sense their environment
VTT Technical Research Centre of Finland has developed a sensor device for the visually impaired. It enables them to sense their environment and move around in a safer manner. It works with a radar system developed by VTT. It monitors obstacles in front of it and passes the information to the user through vibrations or voice feedback.
VTT has developed Guidesense in partnership with the Kuopio University Hospital and the Finnish Federation of the Visually Impaired (FFVI).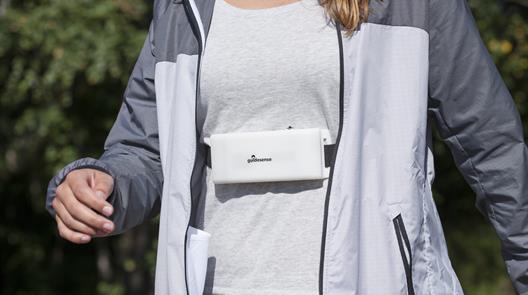 Guidesense wearable sensor (picture courtesy of VTT Research)
Mega silk cluster will soon be set up on the outskirts of Mysuru, India
This is one of the six silk clusters to be set up across the country under the revised National Handloom Development Programme. Mysuru and its surrounding regions are known for sericulture, and the famed Mysore Silk has been accorded the Geographic Indication tag in view of its uniqueness. Twisting, yarn dying, warping, fabric dying and printing, and calendaring were among many functions that would be provided at the cluster.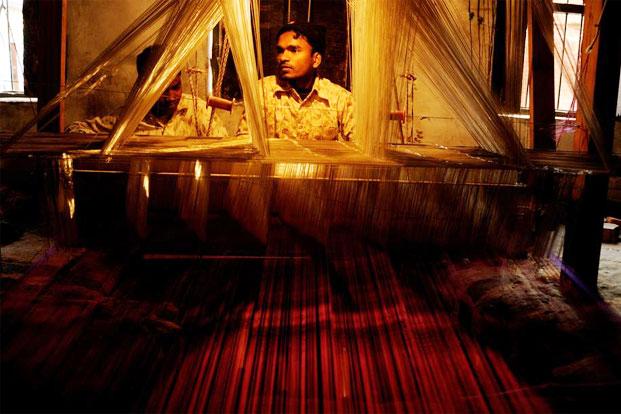 Silk weaver (picture courtesy of Unnati silks)
La minute de la texturgie n° 5 - janvier 2017
Carbonbeton: Innovative Construction Material Awarded the Future Prize
Three scientists from the Dresden University of Technology have been awarded the Federal President's 'Future Prize' for the development of 'carbonbeton' which is a robust and environmentally friendly alternative to reinforced concrete.
The material is economical, efficient and beautiful. Thousands of carbon fibres are formed into grids and coated with concrete. The result is incredibly thin plates. Carbonbeton is lighter, more durable and easier to mould than conventional steel. This fascinating material paves the way for a new building material to enter the market.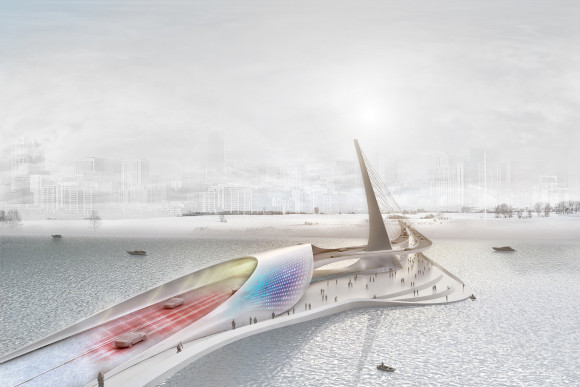 A futuristic bridge made with carbonbeton (picture courtesy of HTWK Leipzig)
Defined nozzle geometry determines fiber properties
The shape of the spinning channel determines the handling of the spinning process. It is not only an advanced optimization of spinnerets that was realized at the ITCF Denkendorf. As well cellulose fibers with completely new properties have been produced by using the dry-wet spinning process, thanks to scientific exchange with the Institute of Laser Technologies (IFSW) at the University of Stuttgart.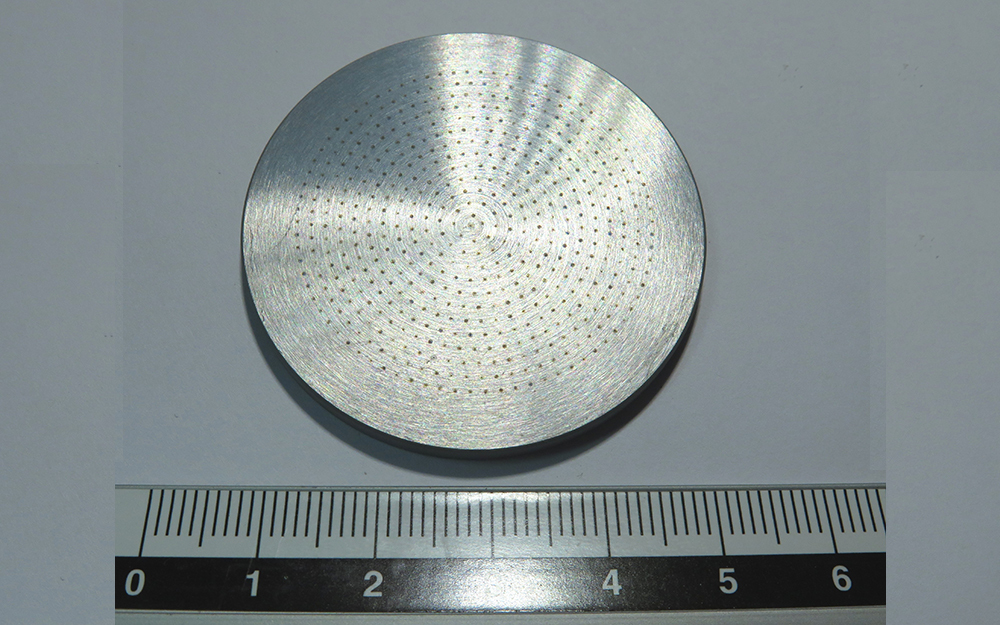 Laser-drilled spinneret made of 3 mm silicon nitride - Source: ITCF Denkendorf
Launch of the ART CHERIE project to exploit the fashion Cultural Heritage of EU fashion designers
The project, coordinated by EURATEX, addresses the issue of apprenticeships delivery in the fashion sector dominated by SME's and micro enterprises. The objective of ART CHERIE project is to contribute to the protection and exploitation of the fashion Cultural Heritage; organize and structure it in vocational training courses for the improvement of EU fashion designers (Fashion designers working in T&C Industries and young fashion designers).
The ART CHERIE platform will respond to design skills and for that scope will concentrate information and digitalize material from Prato Textile Museum as the initial pilot.