The gossip of "texturgie" for the Year 2019:
creating new sensitive matters by combining textile textures and high technologies
(créer de nouvelles matières sensibles en combinant textures textiles et hautes technologies)
La minute de la texturgie n° 31 - décembre 2019
The circular conundrum for composites
The recycling rates for stainless steel are now above 90% and those for aluminium over 70%, yet most of today's recycled composite materials are placed either in landfill or incinerated. Composites are inherently flexible in terms of fibre and resin types and that's a problem when it comes to recycling. Composites have complex supply chains that are problematic, in addition to the high production energy use for carbon fibre production and the generation of a lot of waste in terms of fibres, as well as packaging and consumables.
Biocomposites were subsequently discussed and it was emphasised that they must be based on waste products not competing with food stocks or taking from other industries.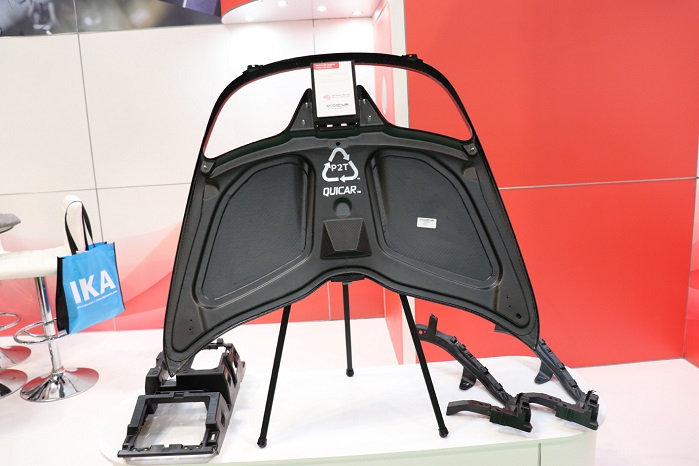 Recycled carbon fibre tailgate manufactured by Prodrive Composites in collaboration with ELG. © Inside Composites
Dissolvable threads solve recycling complexity
The Belgian startup Resortecs has been awarded for its smart stitch innovation that aims at reducing waste in the recycling of textile products. Its thread simply dissolves at a high temperature and makes both repairing and recycling much simpler.
Resortecs' thread does not require modifications in manufacturing or design. It allows to recover more fabric (by getting rid of the hard points) but also to re-use adornments, high value material, zippers and buttons. This Belgian start-up is currently working on a prototype shoe that can be entirely disassembled: JOAN.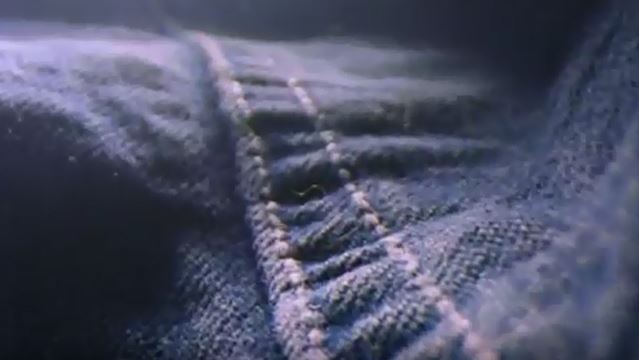 rebirth:: dissolvable thread jeans collaboration between unspun denim and resortecs
E-Webbings: a customisable base for a wide range of smart textile applications
E-Webbings narrow woven fabrics are made from a variety of fibers and conductive elements that allow electronics and digital parts to be embedded in them. Conductive fibers or wires can be woven right into the E-Webbings fabric, allowing for transmission of power and information without the need for additional wiring in the final component.
Bally Ribbon Mills (BRM) also offers many sensor options, based on where within the product the textile structure is located, and what types of information and data it needs to measure.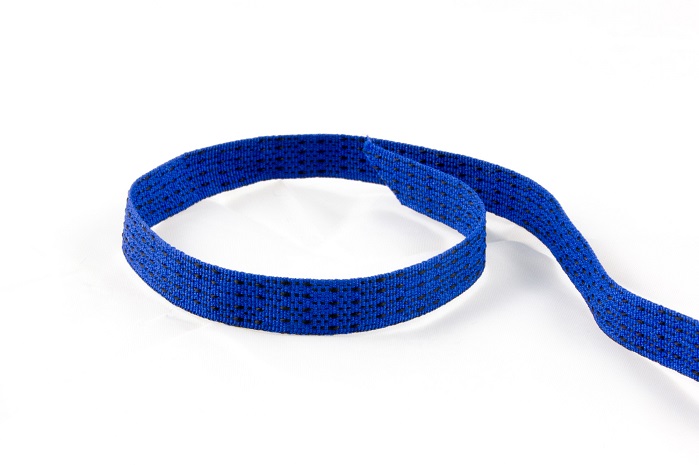 Bally Ribbon Mills' E-Webbings. © BRM
La minute de la texturgie n° 30 - novembre 2019
A cloud of solar balloons collecting energy from the sun
Like a field of sunflowers that tilt their heads towards the sun, the solarCLOUD canopy of solar balloons harvest energy from the sun while providing shade. At night the balloons gently fall to a specified height as they lose heat energy. The canopy becomes a giant media cloud that can host light shows and other programmable digital art.
The fabric covering for the balloons would be fabSOL, a solar fabric made of lightweight carbon fiber woven with solar cells coated in a conductive polymer material.
solarCLOUD canopy of solar balloons. Photos: Superspace.
When haute couture fashion meets biomimetic design
Based on 150 years' experience in textile technology combined with comprehensive know-how in fiber reinforced plastics, BIONTEC has developed its own manufacturing process from fiber to finished component for large serial production according to biomimetic design.
Its approach aims to achieve the best performance with minimum material usage by placing fibers aligned to the load path within the net shape of the component. By combining different layers of fiber into one stitched layup preforming can be simplified significantly. For more complex parts, several layups are combined like a puzzle into a three-dimensional stable preform.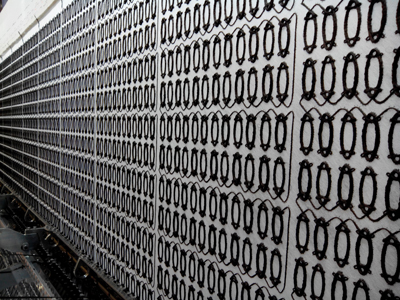 Serial production of net-shaped textiles on industrial embroidery machine; © BIONTEC
Providing the designers an undisturbed industrial platform to communicate their design talents
The goal of the Santoni Pioneer Program (SPP) is to drive the world of the knitting designer, providing them with breakthrough dynamic solutions distinguished by outstanding equipment at their fingertips. The designers were given access to an enormous library of original knitted patterns arranged by machine and yarn type extending the boundaries of patterns and textures.
Rebecca Marsden works at The Royal College of Art in London. She has focused on performance wear in an aerial dance context. So, she said: "I was interested to push my work and begin exploring fine gauge machines and seamless knitting technology to enhance my designs and support the body in motion and post-performance."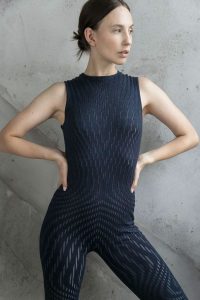 Graphics and functional knitwear designs, Synthesis collection, by Daniela Becker; Santoni Shanghai Cn
La minute de la texturgie n° 29 - septembre 2019
A computer-aided design tool to customise knitted items
Researchers from MIT's Computer Science and Artificial Intelligence Laboratory (CSAIL) have come up with an approach to streamline the knitting process. A team created a system called InverseKnit that translates photos of knitted patterns into instructions that are then used with machines to make clothing. To get InverseKnit up and running, the team first created a dataset of knitting instructions, and the matching images of those patterns. They then trained their deep neural network on that data to interpret the 2D knitting instructions from images.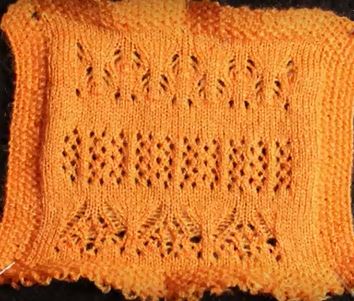 Knitted design using an automated MIT knitting system. © MIT CSAIL
Combining construction principles found in nature with cutting-edge technologies
Roughly five times lighter than a more conventional steel structure, the BUGA Fibre Pavilion (in Heilbronn, Germany) was created using robotics technology that placed fibrous filaments between two rotating winding scaffolds. The process created the predefined shape of the building component, which included a lattice of translucent glass fibers onto which black carbon fibers were placed where structurally needed.
This architectural marvel showcases the potential future of construction—created by combining construction principles found in nature with cutting-edge technologies.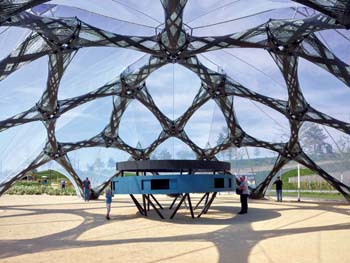 BUGA Fibre Pavilion. Photo: ICD/ITKE, University of Stuttgart; Roland Halbe.
The suitability of textiles for use in textile reinforced concrete
In his thesis, ITA-doctoral candidate Martin Scheurer investigates how textiles can be used in textile reinforced concrete. With his method, only three different tests are necessary to make a good initial assessment of the suitability of textiles for this use. An enterprise can find out now fast whether the entrance into the textile reinforced concrete market with existing textiles is possible.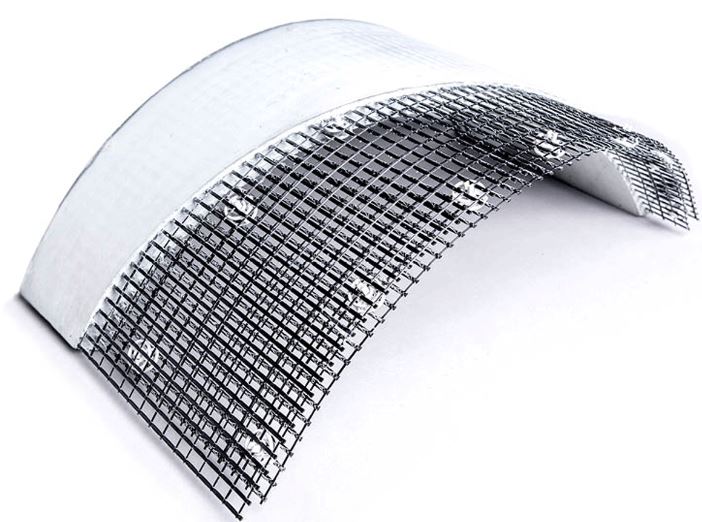 Natural fibers make textile-reinforced concrete greener and cheaper: Hannovermesse.de (Photo: Jörg Singer)
La minute de la texturgie n° 28 - juin 2019
Manufacturing inductive charging coils with textile embroidery technology
Contactless charging with induction coils is an important component of future plug-in hybrid and electric vehicles. It is well known that embroidery technology makes it possible to produce highly complex and sophisticated textile designs on a base fabric with several colours and threads. The researchers around Sathis Kumar Selvarayan, at the German Institutes for Textile and Fiber Research (DITF), have succeeded in optimizing the embroidery process so that it is suitable for the production of textile inductive charging coils.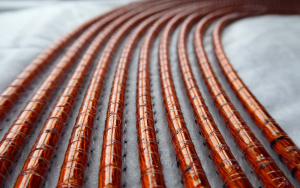 Copper coil on a textile carrier; Source: Kupferspule auf Trägertextil
How to turn agricultural waste streams into textile quality fibre
The technology that Spinnova has invented for spinning textile fibre out of wood-based cellulose is equally suitable for cellulosic waste streams. Spinnova and Finnish energy company Fortum have entered into a disruptive strategic partnership focusing on resource efficiency. Their objective is to turn agricultural waste streams into textile quality fibre with Spinnova's technology.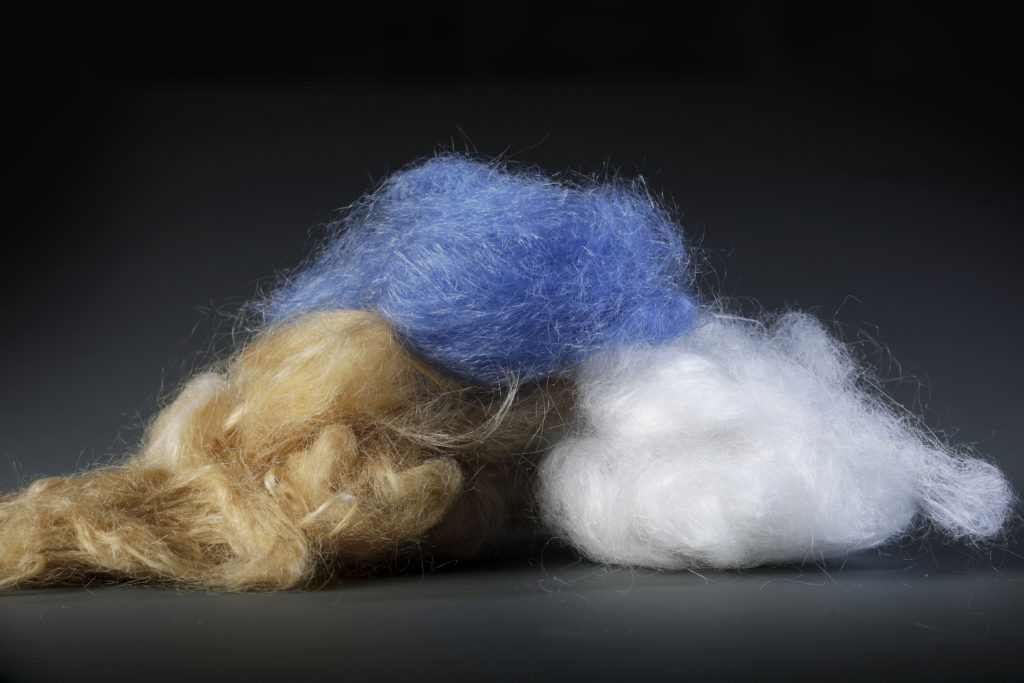 Cellulose-based textile fibre. © Spinnova
Advanced textiles offer new forms for flexibility in building design
The Shed arts center recently opened in New York City. The need for flexibility has been transformed into the building's own aesthetic. Ethylene tetrafluoroethylene (ETFE) pillows create a translucent telescopic outer shell that can be deployed to glide along rails to meet an adjoining plaza, effectively doubling the building's footprint when it is needed for larger events. Power, lighting and theatrical rigging are all integrated into the soft structure held on a steel frame that acts as a skeleton.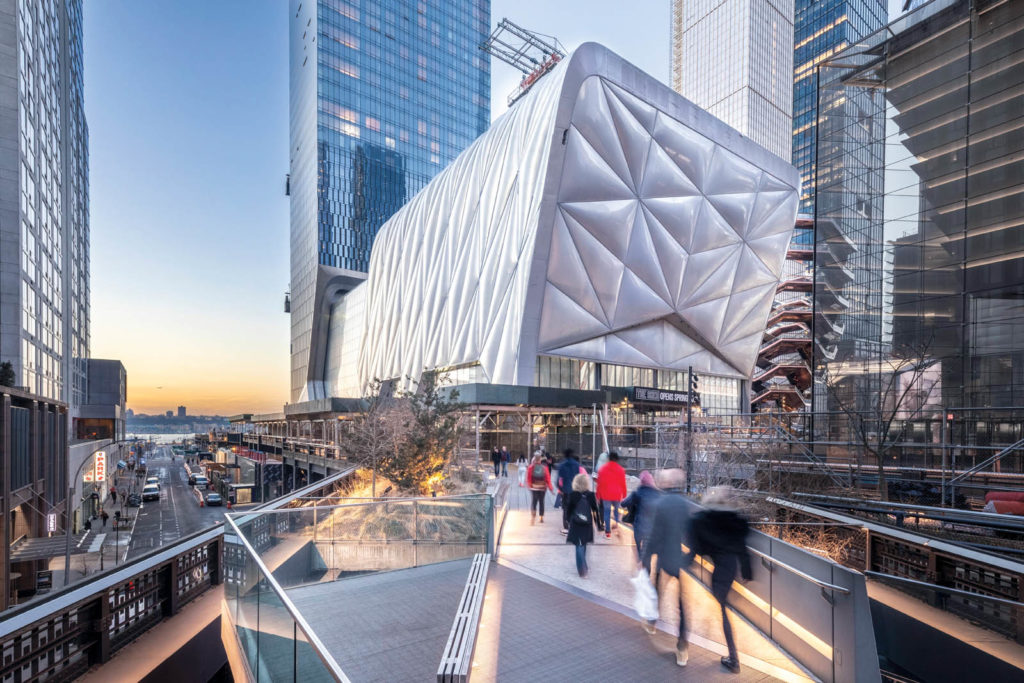 The Shed in New York City is an arts center. Photo: Diller Scofidio + Renfro.
La minute de la texturgie n° 27 - mai 2019
Nonwovens: to be or not to be textiles?
Leaders from the global nonwoven associations held a joint strategy meeting at the IDEA 2019 Conference. The first step in advancing free and fair trade in nonwovens has been achieved with an updated and uniform nonwoven definition recently approved and published by the International Organization for Standardization (ISO) 9092:2019.
The new definition establishes nonwovens without reference to "textiles" as did the previous definition and introduces the concept of an engineered material. The new definition describes a nonwoven as an "engineered fibrous assembly, primarily planar, which has been given a designed level of structural integrity by physical and/or chemical means, excluding weaving, knitting or papermaking."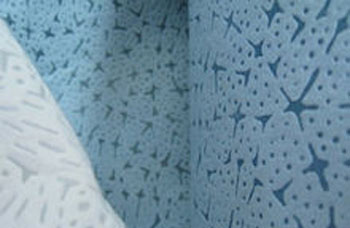 Meltblown nonwoven fabric; CNTAC
An adaptable kinetic wall system awarded in the Textile Structures for New Buildings competition
Eight projects have been awarded in the Textile Structures for New Buildings competition at the Techtextil/Texprocess shows.
The first prize in Macro Architecture went to Rebecca Schedler from the Weißensee Kunsthochschule Berlin. She was awarded for her project Airdapt, in which she developed an adaptable kinetic wall system that offers the possibility of dividing large rooms into smaller working areas that can become more or less transparent and more or less sound-absorbing depending on requirements.
The Bubble won the first prize in the category macro architecture. Attracted by the unusual object, visitors are literally 'sucked into' the interior.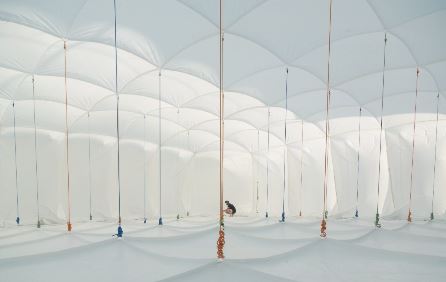 The Bubble. © Messe Frankfurt Exhibition GmbH
Intelligent yarns are attractive materials for future technologies
The applications of conductive threads are wide-ranging. They can transfer electricity and data and thus provide information about the stress on components, temperature or humidity. Embroidered on car seats as touch switches or incorporated into the sole of a shoe, these intelligent threads could replace raw material-intensive plastic switches and cables. This not only makes them significantly more environmentally friendly; they are also easy to process and more pleasant to grasp or wear.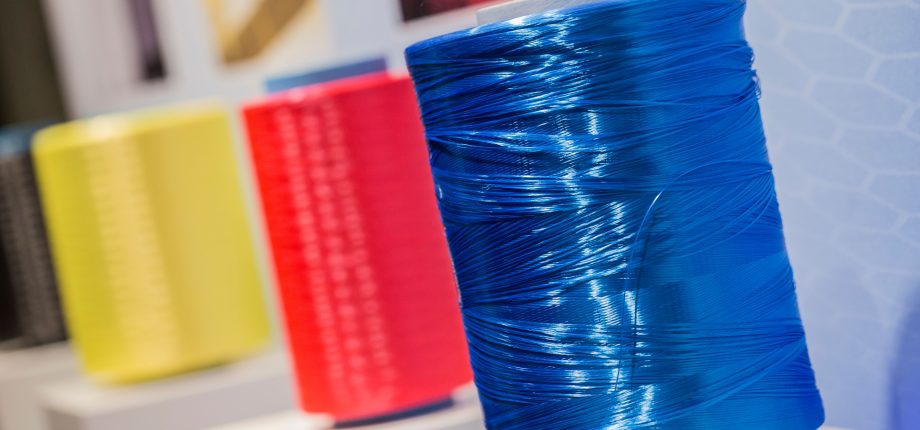 The threaded revolution has begun; Techtextil Blog der Messe Frankfurt
La minute de la texturgie n° 26 - avril 2019
(créer de nouvelles matières sensibles en combinant textures textiles et hautes technologies)
The gossip of "texturgie": creating new sensitive matters by combining textile textures and high technology
Digital interlooping: 3D printing with SLS to create knitted structures
Mark Beecroft, a senior lecturer at the Manchester Metropolitan University School of Art, is exploring the use of 3D printing in industrial knitting in a process he calls 'digital interlooping'. Selective laser sintering (SLS) can create tubular knit-based structures using nylon (PA12) powder.
Previous 3D printed knitted structure research involved non-continuous printing methods and linked geometries. Beecroft's work addresses this 'gap' in the literature. He believes his approach offers the opportunity for a new method of textile production.

'Digital interlooping', 3D printing in industrial knitting; © Mark Beecroft
Origami and high-performance textiles for smart human habitats
MoonMars project—architecture plans for smart human habitats and research stations on other planets. They are experimenting with origami and high-performance textiles to create habitats that are compact enough to transport and easy to deploy in extraterrestrial environments.
The MoonMars prototype entrance tunnel was deployed and tested to extreme conditions during the EuroMoonMars 2018 simulation at ESA–ESTEC. The origami structure was designed as a gateway and sub-system between the exo-habitat, airlock system and exo-laboratory.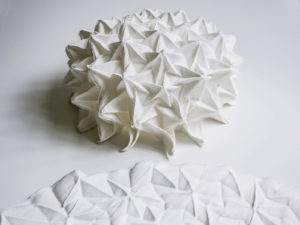 The origami structure was designed as a gateway; photo © Samira Boon
A new digital thread dyeing system to dye exactly the amount you need
Twine's system digitally dyes white thread from different manufacturers that can be used for a range of applications, such as apparel, activewear, shoes, accessories, home decor, vehicle upholstery and more. The SnapMatch application captures an image of a sample using a mobile device and Twine's proprietary algorithms analyze the colour immediately. The user then sends the captured colour to the TS-1800 system for immediate thread dyeing in the desired colour.
Knitted lace gradient. © Twine Solutions
La minute de la texturgie n° 25 - mars 2019
Raised consciousness of consumers gives scope for yarn companies to develop their plans
Raised consciousness of consumers worldwide is feeding into priorities already established on sustainability and ultimate disposal of fashion garments, giving scope for yarn companies to develop their plans and spread the word. Pitti Immagine Filati continues to develop and encourage research into yarns and knitwear. Digital sampling is finally coming into its own, seen in action at Tollegno 1900 working with Shima Seiki machinery, Virtual Yarn Project, is ready as a regular tool with verisimilitude of printed fabrics giving the illusion of texture and 3D looks, enabling bespoke designs without vast expenditure. This is seen as a green measure, saving wasted fabric, dye and ultimately time and money.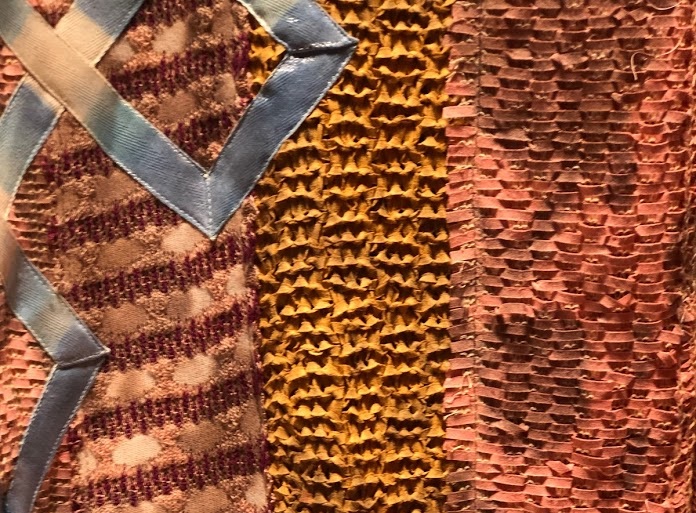 Designers used mixed structures and tactile effects; photo © Janet Prescott
A unique new silhouette for Museum of the Future in Dubai
In a region that is renowned for pushing the limits in architectural designs, The Museum of the Future in Dubai is one of the most complex composite projects to date, adding a unique new silhouette to the Dubai Downtown skyline. The project combines lightweight carbon and glass fibre prepregs, whose fire performance has been approved by the Dubai Civil Defence (DCD), with a stainless-steel outer cladding to produce the stunning outer skin of the torus shaped building.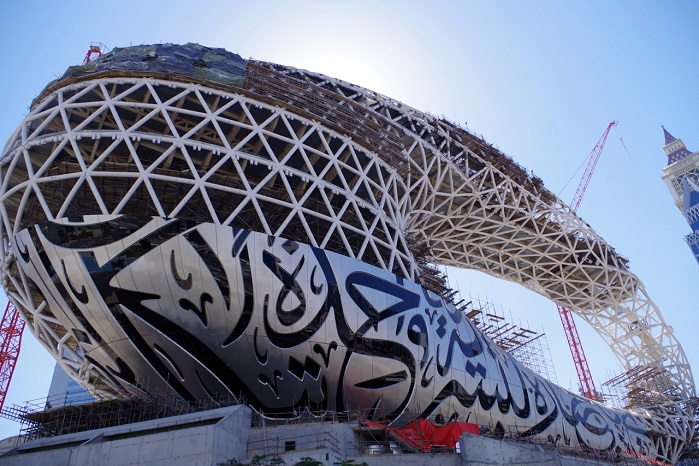 Arabic calligraphy covering the facade, © Notus Composites
Extreme sports require tough textiles
Today's sport jumpers increasingly want parachutes that allow them to descend at a greater speed but still land where they're supposed to. That's accomplished by using smaller canopies as well as fabric that meets appropriate porosity expectations. Nylon may be the established standard for parachute fabric, but how that nylon is produced does change, for reasons of performance as well as aesthetics.
Ropes are certified and verified by third parties, with specific certification depending on the end use of the product. Climbing ropes are conformed to UIAA 101, the standard of the International Climbing and Mountaineering Federation, which specifies minimum performance properties.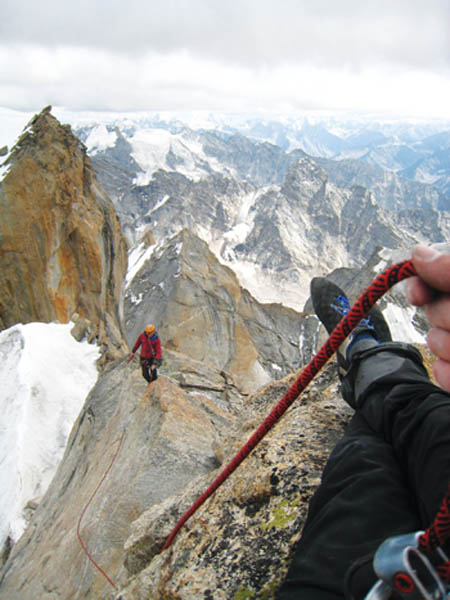 Sterling Rope's Helix DryXP rope for alpine climbing. Photos: Sterling Rope Co. Inc.
La minute de la texturgie n° 24 - février 2019
Sensing molecular logic: first example of a molecular memory device
By shaking down electronics to the molecular level we would overcome the limitations of microlithography and other techniques and so extend Moore's Law well into the future. Moreover, molecular logic devices might open up new applications and new thinking in terms of what we might do with computation.
UK researchers have demonstrated the first example of a molecular memory device that follows-up storage with logic processing.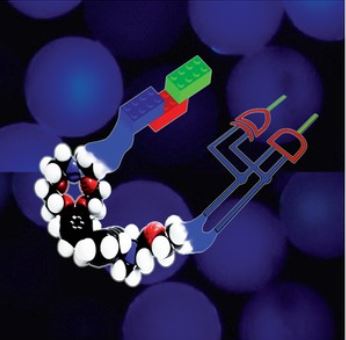 Molecular logic-based computation; © Prasanna de Silva
Researchers create carbon fibres with uniform porous structure
Liu is an assistant professor in the Department of Chemistry, in Virginia Tech's College of Science. After tweaking a conventional method of chemically producing carbon fibres, now he has developed a process to synthesize porous carbon fibres with uniform size and spacing. He details this work in a recently published article in Science Advances.
It opens the way about designing materials for energy storage. Now one can also start to think about functionality: we not only use (carbon fibres) as a structural material but also a functional material.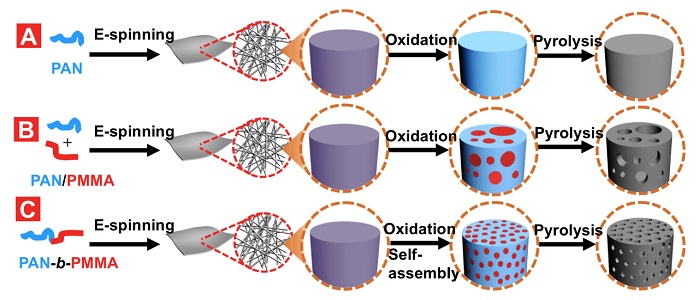 Conventional (A, B) and new (C) methods for synthesizing carbon fibres © Virginia Polytechnic Institute and State University
Apple Wins Patent for Advanced Weaving Equipment
Apple was granted a "design patent" for Fabric. The U.S. Patent and Trademark Office officially granted Apple a patent for the specialized equipment that will make both regular and smart fabrics that Apple has other patent filings on. Apple envisions standard and smart fabrics will be incorporated into future products from Apple Watch bands to MacBooks, clothing, smartglasses and beyond.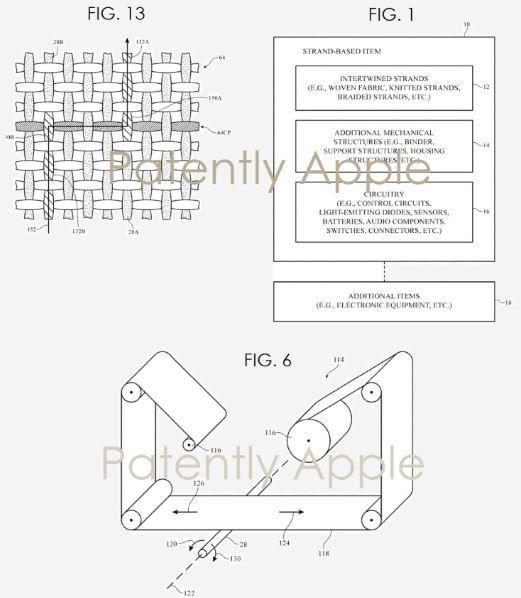 Strand rotating equipment, strand woven with other strands; Patently Apple
La minute de la texturgie n° 23 - janvier 2019
The features of small-scale digital printing applied to the traditional dyeing process
Twine Solutions has created the world's first standalone digital thread dyeing system which applies the features of small-scale digital printing to the traditional dyeing process. The plug and play machine dyes thread using digital printing technology and can produce any length and colour, whenever or wherever they are needed. The technology is based on waterless dyeing and will feature inbuilt colour software integrated with Coats ColourStitch.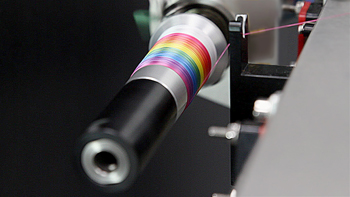 Gradient thread dyeing © Twine_Solutions
A digitally knitted tapestry with technical functionality at Guggenheim Bilbao
Leading flat knitting machine manufacturer Stoll has helped create and manufacture the textile element of A Tent Without A Signal, a digitally knitted tapestry with technical functionality. Braided with metallic fibres, MOS's tent doubles as so called a Faraday cage for the future, scrambling forthcoming 5G mobile signals. "It embodies a nomadic typology but denies its traditional formless slack in favor of a taught lofting between two archetypal symbols in plan — the cross and the circle — by means of a digitally flat-bed knitted futuristically fluorescent tapestry, completed in collaboration with ground-breaking textile technology maker, Stoll."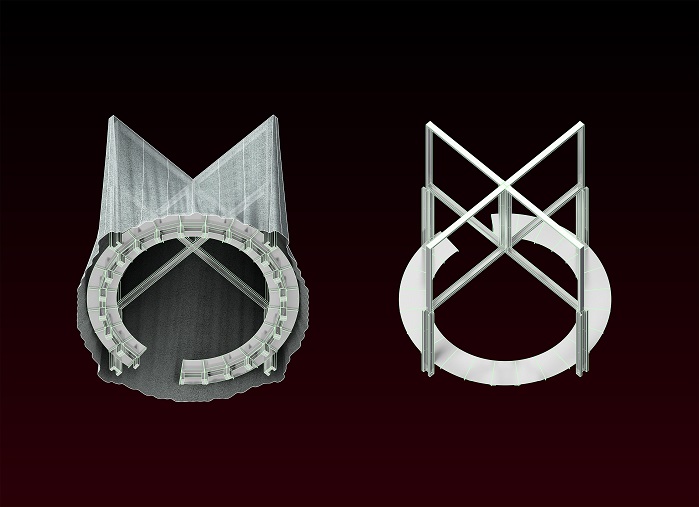 A tent without a signal; courtesy MOS Architects, New York, with the technological collaboration of Stoll © Guggenheim Museum Bilbao
Double-curved textile reinforced concrete elements
The CurveTex project objectives were the development of a drapable textile reinforcement for a concrete matrix and the production process (con-crete casting process) for double-curved textile reinforced concrete (TRC) elements with continuous fibre reinforcement.
The relevance of this research topic is not only limited to the construction sector, but also affects several textile-based sectors, such as the automotive industry, since the draping of conventional, two dimensional, textile semi-finished products in three-dimensional, near-net-shape preforms often leads to creases or draping errors.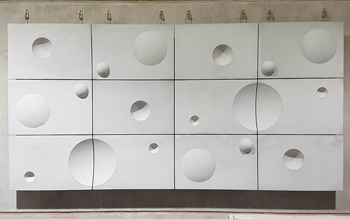 CurveTex facade with drapable, elastically adapted reinforcement textiles; source: Stanecker Betonfertigteilwerk GmbH